I give thanks for ordinary days..
not birthdays, holidays, red letter days

but days when Iím not waiting
for anything

and nothing
is waiting for me

ordinary days
that start with coffee

sipped from a big cup
at my kitchen table

days I watch birds come and go
on the tree outside the window

and listen to the
old dogís muffled snores

as she sleeps on her cushion
near the Aga

and I know that all I need
to make me happy

I have right here and now-
this ordinary day


© by Maryalicia Post.
Used with the authorís permission.

†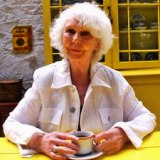 Maryalicia Post grew up in New York City and has lived most of her life in Dublin, Ireland. A journalist and travel writer, she was also a "committed" cross country horseback rider for many years. Her book, After You, chronicles the year after her husband died. Learn more about Maryalicia at www.maryaliciatravel.com.
Lori Levy:
Simply expressed and beautiful.
Posted 03/15/2019 01:54 AM
ladybug:
Yes, that is exactly what is most important and often slips past us if we are not paying attention! Susan T. Moss
Posted 03/14/2019 08:25 PM
joecot:
Simply lovely.
Posted 03/14/2019 01:47 PM
jayne:
An Aga is a cast iron stove.
Posted 03/14/2019 01:22 PM
Jancan:
How beautifully you have captured the ordinary--great--day! Jancan
Posted 03/14/2019 01:16 PM
BAMars:
That's a beautiful reminder.
Posted 03/14/2019 12:24 PM
barbsteff:
Thank you. Well constructed and pleasing to read. I don't know what the Aga is.
Posted 03/14/2019 11:31 AM
DavidTookey:
I couldn't agree more!
Posted 03/14/2019 10:42 AM
wordartdjc:
Perfect to bring all things important completely together.
Posted 03/14/2019 09:54 AM
Sarah Russell:
Yes!
Posted 03/14/2019 09:43 AM
Jean Colonomos-1:
So well said.
Posted 03/14/2019 09:19 AM
cork:
Le gr?, and so we learn to appreciate the simple things that fill our lives.
Posted 03/14/2019 08:50 AM
Janet Leahy:
This poem reminds me of Mary Oliver's lines "let God and the world know you are grateful." A beautiful poem in praise of the ordinary. Thanks Maryalicia.
Posted 03/14/2019 08:09 AM