March is here again.
Her personality has not improved,
still frosty before morning coffee.
She mopes about in dull gray half the day,
yet sometimes by afternoon, she is
dancing in a sunshine yellow frock
with daffodils on the hem.

Why must she blow so hot and cold?
Some days she is warm and welcoming,
others long-winded and blustery
or goes on a thunderous rant.
Perhaps she should talk to St. Patrick
about this moody behavior.

We find her more calm
before she takes her leave
and will be happy to see her
next year on her annual visit,
but we are glad to know
her sister April will soon
grace us with her presence
and shower us with flowers.


© by Melanie Harless.
Used with the author's permission.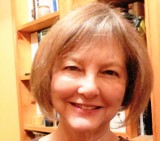 Melanie Harless is a former school librarian who retired thirteen years ago. In addition to spending time with her grandchildren, she began to write. She provided a monthly travel column for a regional magazine for a few years and her creative nonfiction and poetry have now been published in several anthologies and online and print magazines. Melanie lives with her husband of 53 years in Oak Ridge, Tennessee, where she is on the board of Tennessee Mountain Writers and is a volunteer trip coordinator for the Oak Ridge Institute for Continued Learning.
barbsteff:
Hard to think charitably of March in this most snowy, rainy, flood-ridden month. I long for the usual sight of daffodils, but it'll be awhile. Poem is a reminder of what's to come.
Posted 03/15/2019 04:43 PM
Sharon Waller Knutson:
I loved this poem because it was so picturesque and you used an extended metaphor and personification. You so accurately described March as a temperamental feisty female and April as her sister who showers us with flowers.
Posted 03/15/2019 12:49 PM
michael escoubas:
Really well-done, Melanie. As Jayne noted, you have made effective use of personification, a poet's best friend.
Posted 03/15/2019 11:49 AM
Jo:
It?s hard to write an extended metaphor and you have done it brilliantly. Loved your poem
Posted 03/15/2019 11:42 AM
KevinArnold:
The internal rhymes add to the fun. And, even though Eliot calls her the cruelest month, it?s heartening to know April?s on her way.
Posted 03/15/2019 09:09 AM
cork:
The St. Patrick line is precious.
Posted 03/15/2019 08:38 AM
Larry Schug:
March-the most frustrating of months. Well said.
Posted 03/15/2019 06:57 AM