Apples, asparagus, avocados,
freshly mowed grass
and sculptured shrubs.
 
Cabbage cooked with corned beef,
lime Jell-O shaped like a shamrock
and us. On St. Paddy's Day,
 
ten days before I turn sixteen,
my father in his jade jacket,
my sister in chartreuse tights,
 
holding the emerald-eyed cat,
mother in a fern green muumuu
and me with moss-colored hair,
 
stand under a Ponderosa Pine,
smiling and squinting
as the flashbulb goes off.
 
The photo in the album
is black and white.
But I remember that day in color.

 
© 2018 by Sharon Waller Knutson.
Used with the author's permission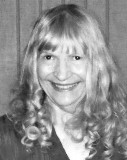 Sharon Waller Knutson lives in a house her husband, Albert, built out of clay from the land on a dirt road in the middle of the wildlife habitat and open range of the Arizona desert. A retired journalist, she writes poetry for readers who don't normally read poetry. In 2014, Sharon sold her chapbook, My Grandmother Smokes Chesterfields, to winter visitors from all over the world in a café where her husband played guitar and sang country music. Her customers told her they expected her to publish a new poetry book when they returned each year so, in 2015, she published Desert Directions, about her life in the desert. In 2016, she published They Affectionately Call Her a Dinosaur, poems about her customers and other seniors in her life who started new careers, businesses, and relationships after they retired. And in 2017, Sharon published I Did it Anyway, poems about how she broke the glass ceiling in the newspaper business in the '60s and '70s, when women were typically relegated to the society pages. This year, Albert retired from playing music so Sharon now operates her bookselling operation online.
Abha Das Sarma:
Beautiful-Abha
Posted 01/05/2021 01:16 AM
Jancan:
Great use of specific details--and I love the end. Jancan
Posted 03/18/2019 08:44 AM
Lori Levy:
Love the details. Great ending!
Posted 03/17/2019 05:33 PM
michael escoubas:
Let's hear it for the color green! Thank you Sharon!
Posted 03/17/2019 04:00 PM
wordartdjc:
Your greenery is superb. Thank you for that little punch line at your ending.
Posted 03/17/2019 02:59 PM
cork:
I am green with envy of your poetic skills.
Posted 03/17/2019 10:02 AM
KevinArnold:
Fun, and unique bio.
Posted 03/17/2019 09:34 AM
plgoodman:
Love the surprise at the end! How ironic and funny. Thanks for the green giggle!
Posted 03/17/2019 08:34 AM