A robin high in a tree
is announcing his presence
to anyone who will listen.
Buds are starting to thicken
on leafless limbs.
Daffodils are blooming
along the road,
as days grow longer
stealing minutes from nights.
We'll soon pass
the Vernal Equinox, and
Daylight Savings time
is here again, but
does transferring an hour
from mornings to evenings
really save any time
as we spring forward?


© by Bob Kimberly.
Used here with the authorís permission.
†
†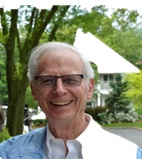 Bob Kimberly started writing poetry fifteen years ago after he retired and sold his horse farm, where he and his wife, Nancy, bred and boarded riding horses for nearly 30 years. To keep busy, he joined a creating writing class for senior adults, and discovered there that he enjoyed writing poetry. Bob has published a number of chapbooks, mostly for his family and close friends, and has also had a few poems published in newsletters and calendars. He lives in Bellevue, Washington.
†
†
wordartdjc:
Interesting concept. No I felt the day was just a day, 24 hours long or short if you see it that way!
Posted 03/18/2019 09:29 PM
Lori Levy:
Good question!
Posted 03/18/2019 02:17 PM
barbsteff:
Good question, to which the answer is NO! Other than having more daylight when seniors want to drive, or, as a friend told me, "more daylight when I am awake," it'sa shell game. I want ys to adjust our lives to sun time, rather than adjusting the clock to suit ourselves. Be real, folks! Clever poem. Glad Bob took up writing poetry.
Posted 03/18/2019 12:51 PM
Jean :D:
People forget the "hours transferred from morning to night" are a boon to those of us elderly with eyesight 'dim-ness'. We can now drive to evening events. Please don't deprive us that!
Posted 03/18/2019 09:20 AM
cork:
My clock just chimed 7:00 and it is getting light outside as dawn breaks.
Posted 03/18/2019 08:42 AM