Risen from half frozen muck,
peepers give voice to awakening soil,
chanting a sharp, piping whistle.

I hear a thousand sleigh bells
or an invasion of spectral creatures,
but frogs sing loudly and fast only for love.

Tiny carolers bearing dark crosses
on their backs, they remain invisible
but for sound, but for faith.

The pulsing chorus is my creed, a promise
kept yearly by this worshiping choir,
a shrill, clear call of hope.


© by David K. Leff.
Used with the authorís permission.
†
†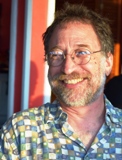 David K. Leff (1955 - 2022) was an author, poet, and playwright, the author of six nonfiction books, three volumes of poetry, and a novel in verse. His journals, correspondence, and other papers are archived at the University of Massachusetts Libraries in Amherst. David's 2016 book, Canoeing Maine's Legendary Allagash: Thoreau, Romance and Survival of the Wild, won a silver medal in the Nautilus Book Awards for memoir and a silver medal in the Independent Publisher Book Awards for regional nonfiction. In 2016-2017, the National Park Service appointed him as poet-in-residence for the New England National Scenic Trail (NET). David served in a multitude of civic roles, including Deputy Commissioner of the Connecticut Department of Environmental Protection and town meeting moderator, historian, and volunteer firefighter--for 26 years--in his hometown of Canton, Connecticut. Learn more about David at www.davidkleff.com.
Jo:
YES, " MAY THE SMALL WILD WORLD LIVE ON" wonderful poem. You evoke the sounds so well.
Posted 03/20/2019 10:25 AM
cork:
I love the music of the bog and Emily Dickenson's frog.
Posted 03/19/2019 08:53 AM
wordartdjc:
Call of hope is what invigorated me. May the small 'wild' world live on.
Posted 03/19/2019 08:50 AM
michael escoubas:
Like the contrast, David, that your draw between the "half-frozen muck" and the peeper's "piping whistle". Well done! Great way to begin the day.
Posted 03/19/2019 07:44 AM
Larry Schug:
Ah, the peepers! Alas, the pond behind our house still is covered with a foot of snow, the ice still thick enough for deer to walk on, but this poem, a harbinger of Spring creates anticipation. Thanks.
Posted 03/19/2019 07:05 AM
Janet Leahy:
Your opening line brings me into the poem, "risen from the half frozen muck," nice contrast to the chorus of hope. Thanks David
Posted 03/19/2019 06:12 AM
paula:
"give voice to awakening soil"--great line
Posted 03/19/2019 04:53 AM