Black dirt
nosing its way

through snow -
spring comes with

mud on its face.


†
*****************************
†
†
Even two
miles away

I can see
them - the trees

saying: Spring!



© by Tom Montag.
Used with the authorís permission.
†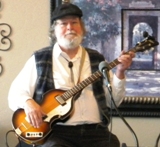 Tom Montag was raised on an Iowa farm, but now lives in Wisconsin. Retired from a career in the printing industry, he is the author of several books of poetry as well as several books of prose. He's also a songwriter and plays bass, as often as he can. Tom teaches creative nonfiction and poetry at The Mill: A Place for Writers, in Appleton, Wisconsin, and his work has appeared in numerous literary magazines. With David Graham, he is currently editing an anthology of poetry about small towns. Tom's poem, "Lecturing My Daughter on Her First Fall Rain," has been incorporated into the permanent design of Milwaukee's Convention Center, along with the work of other Wisconsin writers. Learn more about him at www.middlewesterner.com.

barbsteff:
Love the idea of spring coming with mud on its face! Tom is a master of short poems.
Posted 03/20/2019 03:27 PM
BAMars:
Especially love the first one, but they're both tight little beauties.
Posted 03/20/2019 02:47 PM
Jean Colonomos-1:
Two gems, so much in so little.
Posted 03/20/2019 12:25 PM
cork:
Spring's face here in Wyoming is covered with shaving cream. Great imagery!
Posted 03/20/2019 08:53 AM
Janet Leahy:
I'll welcome spring, even with "mud on its face." An economy of words, yet you say it so well. Thanks Tom.
Posted 03/20/2019 08:47 AM
michael escoubas:
Simplicity and clarity = power! Nicely done, Tom!
Posted 03/20/2019 08:21 AM
SaraS:
Always love your imagery, Tom!
Posted 03/20/2019 07:39 AM
plgoodman:
Yes!
Posted 03/20/2019 07:18 AM