Standing on a rocky beach,
my son and I
watch seagulls feed,
bathe, and drift
on a calm ocean breeze.

I feel something loosen
in my chest.
It's quiet.
Salt air caresses
my face.

We discuss the gulls--
trying to identify
a smaller
delicate one.

It's good to be here.
How long has it been
since we were this still?


© by David M. Tookey.
Used here with the author's permission.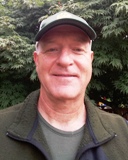 David M. Tookey lives in Seattle, Washington, where he is an elementary school teacher. A bicycle is his main mode of transport around town; David says he finds he can tinker with poems in his head as he rides. He also enjoys baking bread and, of late, has been exploring college campuses with his daughter to help her determine which she might want to attend.
Jancan:
Ahh . . .the beauty of stillness! Jancan
Posted 03/24/2019 08:15 PM
Lori Levy:
Soothing to read.
Posted 03/22/2019 07:02 PM
carlpalmer:
I felt something loosen as well, David, thanks for sharing.
Posted 03/22/2019 11:38 AM
cork:
I remember gulls gliding over freshly plowed fields in Nebraska.
Posted 03/22/2019 08:51 AM
michael escoubas:
Looking at gulls and just being still--my kind of poem, my kind of life!
Posted 03/22/2019 08:23 AM
Janet Leahy:
Just love the closing stanza of this poem, and the awareness that nature can "loosen something in my chest". Wonderful poem to start the day.
Posted 03/22/2019 08:09 AM
Jean :D:
Jayne, your comment about serenity and stillness is exactly what I felt reading this. Such a charming poem.
Posted 03/22/2019 07:59 AM
Larry Schug:
I'm a fan of questions in poems and I think the question at the end is what gives universal meaning to this poem.
Posted 03/22/2019 07:28 AM