Hallowell, Maine
Another foot today.
The crocuses lose again.
Seed catalogue open.

Brooklyn, N.Y.
Finally, sunshine.
Big orange Tom moves from window
to window all day.

New Hope, Pa.
Spring branches bare, yet
impossibly green. Peepers
chorus in cattails.

Osprey, Fla.
Red hibiscus bloom.
Snowy egrets flurry their wings
in showy courtship.


© by Carol Sadtler.
Used here with the author's permission.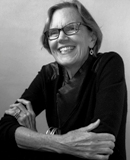 Carol Sadtler is a poet, marketing communications writer/editor, and facilitator of guided autobiography-writing groups. Based in Chicago, she and her spouse have two daughters and a four-year-old Corgi. Carol enjoys travel, swimming, live music and theatre, movies, art museums, and ethnic restaurants. Her poems have appeared in RHINO poetry, The Tishman Review, pacificREVIEW and other publications.
MLove:
I like the way it has snow in the first and fourth stanzas, and color in almost all of them. Nice!
Posted 03/23/2019 03:21 PM
Lori Levy:
Great images of spring in 4 different locations!
Posted 03/23/2019 03:19 PM
joecot:
La Honda, California / Mix of misty drip, sun. Redwoods extend tips, hold centuries.
Posted 03/23/2019 12:11 PM
wordartdjc:
Well, I have lived in Chicago, Southern Michigan and now mid-NC and I understand how each area gives us a unique term called SPRING! Right now I do enjoy my place of residence. Interesting poem
Posted 03/23/2019 11:59 AM
Sarah Russell:
A lovely spring weather report. I lived with you for the length of a stanza in each of those climes. Thank you,
Posted 03/23/2019 09:32 AM