The moon has a face like the clock in the hall;
She shines on thieves on the garden wall,
On streets and fields and harbour quays,
And birdies asleep in the forks of the trees.

The squalling cat and the squeaking mouse,
The howling dog by the door of the house,
The bat that lies in bed at noon,
All love to be out by the light of the moon.

But all of the things that belong to the day
Cuddle to sleep to be out of her way;
And flowers and children close their eyes
Till up in the morning the sun shall arise.


This poem is in the public domain.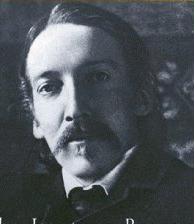 Scottish writer Robert Louis Stevenson (1850-1894) is, for many of us, the first poet to whom we were introduced, through his wonderful book, A Child's Garden of Verses. Though he came from a family of engineers and it was expected he would follow suit, Robert wrote stories even as a child; no one was really surprised when, three years into his engineering studies at the University of Edinburgh, he abandoned them to study writing. Always an avid traveller, despite lifelong poor health, Robert spent much of his life looking for a place to live that offered some respite from his illnesses. A prolific writer of poetry, fiction (Kidnapped, Treasure Island, and The Strange Case of Dr. Jekyll and Mr. Hide are his best known), travelogues, and political essays, he is properly revered today as a major literary figure, although in the early twentieth century, he was temporarily dismissed and disdained as "a children's author." Ultimately, Robert ending up living in Samoa, happy and productive until a stroke abruptly ended his life at the age of 44.
wordartdjc:
Yes, Robert was and is still one of my favorite authors as his work lives on today. I have the habit of introducing him to my great-grandchildren, all five of them with the gift of A Child's Garden of Verses quite early so that they may come to love poetry as much as I have.
Posted 03/24/2019 07:51 PM
Jean :D:
I can attest to the info about R.L.S.'s book of a "A Child's Garden of Verses". Those were our bedtime stories for years. Still have, & treasure that book. Great intro of poems for children!
Posted 03/24/2019 05:54 AM