I came downstairs for Lavinaís scones, butter-ready
from the oven, crusty and cratered, awaiting their dollop
of jam. The morning clouds had whipped themselves up
to a billow, mounds of soft cream. The plink plink
song of a chaffinch dotted the air like currants. Daffodils,
pats of butter on thin stems, did their little dance, and the edible
world spread its feast before me on the fresh green tablecloth.
Oh, how delicious, this sweet Irish spring.


From The Book of Kells† (Poiema Poetry Series, Cascade Books, 2018).
Used here with the authorís permission.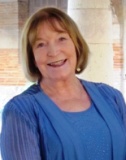 Barbara Crooker's award-winning poems have appeared in numerous magazines, journals, and anthologies and have been featured on the BBC, the ABC (Australian Broadcasting Company), The Writer's Almanac, and in the Poetry at Noon series at the Library of Congress. Recipient of many fellowships and residencies in the U.S., as well as in Ireland and France, she was also a Grammy finalist for her part in the audio version of the popular anthology, Grow Old Along with Me--the Best is Yet to Be. Barbara lives in Fogelsville, Pennsylvania; read more about her at www.barbaracrooker.com.
Carolyn C:
It is very creative how you compare the scones to the images of spring around you. It makes me want a scone very badly! We were in Ireland last spring. Oh, the sweet Irish spring!
Posted 03/26/2019 08:28 PM
barbsteff:
Great extended metaphor.
Posted 03/26/2019 11:14 AM
Lori Levy:
Very sensual and visual. Beautiful poem.
Posted 03/25/2019 10:44 PM
Jean Colonomos-1:
I love to read your poems.
Posted 03/25/2019 10:52 AM
wordartdjc:
This took me back to the wonderful delicious feeling we enjoy with the graciousness of the European mornings and the luxury of being waited upon. Love the poem.
Posted 03/25/2019 09:39 AM
cork:
My daughter will be visiting soon and making us scones. I'll have the butter and jam ready.
Posted 03/25/2019 08:35 AM
michael escoubas:
Let's hear it for morning tea, Irish or even Earl Grey! Great way to begin this day. Thank you Barbara!
Posted 03/25/2019 08:23 AM
Gilbert Allen:
Yes, that description of the daffodils is lovely. And the poem brought back some of my own fond memories of those Irish scones.
Posted 03/25/2019 08:05 AM
Larry Schug:
Perfect!
Posted 03/25/2019 07:50 AM