Finally the forsythia
flocks down the lane
laps around the block
tiny yellow birds
bright origami
no leaves, flowers first
like dessert before dinner

Wild wands dancing
blossomed whips snapping, reaching
against the gray and brown of March,
color so savage it's almost carnivorous
shocks the tamed eye
unlocks the ice-tethered heart
devours winter's tail

Yellow dragon


© by Virginia Shreve.
Used here with the author's permission.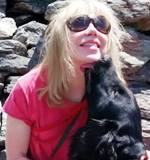 Virginia Shreve, who once penned a catalogue devoted solely to corrugated office products, now resides in the small river town of Collinsville, Connecticut, with a husband and dogs, none well-trained, but all good-natured. For years, she wrote and edited numerous regional newsletters, much dog humor, and her poems have appeared in various journals and anthologies. She believes there can hardly be too much chocolate. Or champagne.
Sarah Russell:
I?m crazy for forsythia, and you captured it so well. What a treat!
Posted 04/25/2019 12:35 AM
barbsteff:
Love the title, for starters. I long for those wild yellow blossoms to appear here in NE Wisconsin, but it'll be a bit I think. The bounteous snow is melting, so there's hope.
Posted 03/27/2019 01:12 PM
Lori Levy:
Beautiful images.
Posted 03/26/2019 11:14 PM
wordartdjc:
Lovely poem. Our cold spell is still with us but this poem filled me with warm delight
Posted 03/26/2019 09:41 PM
CamilleBalla:
Very energetic and so freeing of winter. It took me to searching for info on forsythias in my area. Thank you.
Posted 03/26/2019 11:03 AM
Janet Leahy:
So many wonderful lines in this poem, a joy to read!
Posted 03/26/2019 10:48 AM
cork:
Beautiful like dessert before dinner.
Posted 03/26/2019 08:38 AM
pwax:
Wonderful alliteration and a most creative way of looking at forsythia. Good poem!
Posted 03/26/2019 08:03 AM
Larry Schug:
Every flower deserves a poem that "unlocks the ice-tethered heart". I think these words have also unlocked something.
Posted 03/26/2019 07:57 AM
Jean :D:
Wow, I never realized the power of these bright yellow flowers in our neighborhood. You want to yell, "Go for it 'sythia!" Fun way to look at nature:)
Posted 03/26/2019 07:50 AM