Skeleton trees
are coming alive
with incipient warmth
and the rising of sap
into once brittle branches
that now softly swell
in a haze
of budding chartreuse


© by Joan Kantor.
Used here with the author's permission.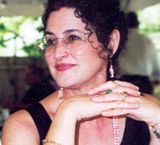 Joan Kantor lives with her husband in Collinsville, Connecticut. A college counselor and learning disabilities specialist for many years, Joan also has training in education and marriage and family therapy. Active in a number of poetry outreach efforts, she is a member of the International Academy for Poetry Therapy and collaborates with both visual artists and musicians in Stringing Words Together, an interactive program of poetry and violin music. Her most recent chapbook is Too Close For Comfort (Aldrich Press). Learn more about Joan at www.joankantorpoetry.com.
wordartdjc:
Yes, a lovely look at Spring
Posted 03/29/2019 05:12 PM
barbsteff:
Lovely poem, well-observed.. "haze/of buddinng chartreuse" a familiar picture.
Posted 03/29/2019 04:59 PM
Lori Levy:
Beautiful image.
Posted 03/29/2019 01:00 PM
KevinArnold:
Not a wasted word.
Posted 03/29/2019 09:41 AM
cork:
The world is white and the snow is falling fast here in Pinedale, Wyoming. The skeleton trees are surprised.
Posted 03/29/2019 08:53 AM
suzanne:
Simply beautiful
Posted 03/29/2019 07:14 AM