It must be morning, before the haze has burned  
off. Or somehow we have Monet-learned

an atmosphere of water reflection,
a new and softer burbled-recitation          

in waves' lapping. Something new is singing here.
These tulips are no less for their plein-air

presentation, but more. Here light and mist         
and flower are a mood that persists

in image long after it is gone from our
backyard. The reality done, these flowers

help us find the feel of: morning mist, fog,
water waver, impermanence, chalked thought.

They are leaning in a purple wind,
as we often are, but holding, bend-

ingly beautiful. Stronger than they look.


This poem was featured, with this painting, as part of an art exhibit/ekphrastic project.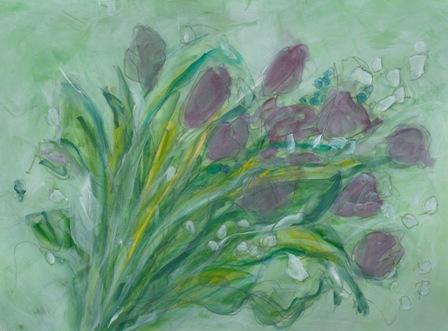 Painting by Christine Alfery, www.christinealfery.net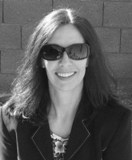 Paula Schulz has taught students in kindergarten, college, and a few grades in between. She is involved with the Poetry People in Waukesha and lives with her husband, Greg, in Slinger, Wisconsin.
barbsteff:
Great interpretation from a terrific painting.
Posted 03/29/2019 05:40 PM
lisav:
So lovely!
Posted 03/28/2019 11:46 AM
Jo:
Beautiful, Paula. such striking images.
Posted 03/28/2019 11:01 AM
MLove:
I had to look that one up. Great example. I love the interpretation!
Posted 03/28/2019 09:35 AM
michael escoubas:
As a Monet fan, Paula, I really like this. Wonderful painting and ekphrastic response. Congratulations.
Posted 03/28/2019 08:32 AM
wordartdjc:
Ah, Spring. How sweet it is
Posted 03/28/2019 08:28 AM
Larry Schug:
I saw the painting in the words before I scrolled down to the image.
Posted 03/28/2019 06:49 AM