Remember the rusting bell on the
handle of your bicycle, the one
with the lever you pulled, zing-
zing, announcing I am here,

as you pedaled up the hill or coasted
down at the seeming speed of light into
the valley where your grandparents lived,
their old brown house born in a forest.

Tonight the bell in the steeple,
chimes old familiar hymns through
a welcome rain that falls like manna
through dusty treetops.

Not yet that family of bats in the belfry.
Not yet wondering for whom the bell tolls.
Instead, remember fragile woodland bells— 
lilies-of-the-valley ringing in spring sun.


This poem first appeared in Verse-Virtual.
Used here with the author's permission.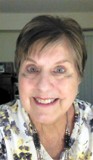 Penny Harter moved from North Jersey to the South Jersey shore area, about a half-hour inland from the Atlantic Ocean, to be closer to her grandchildren. Author of numerous books, she enjoys writing, leading two chapters of a support group for widows and widowers, and occasionally leads a poetry writing workshop or works one-on-one with online students. Learn more about Penny here.
penhart:
Thanks to all who had such kind things to say about my poem! <3
Posted 04/03/2019 07:09 PM
Lori Levy:
Beautiful poem.
Posted 03/31/2019 03:20 PM
BAMars:
I love all of the various bells here - each so vivid, with differing associations. Lovely poem.
Posted 03/31/2019 01:50 PM
wordartdjc:
Memories are the best. Never had a bike, depression years, tight money. But without other childhood memories who would we be? This poem certainly has a 'ring. to it.
Posted 03/31/2019 01:45 PM
KevinArnold:
Great poem, great title.
Posted 03/31/2019 10:23 AM
cork:
I hear that bike bell ringing.
Posted 03/31/2019 09:09 AM
Gilbert Allen:
This poem captivated me from the very first stanza. Fine work!
Posted 03/31/2019 08:58 AM
Larry Schug:
I especially like the last two verses. They transport me. Thank you, Penny.
Posted 03/31/2019 06:46 AM