in herbal medicine
the bitter the better
 
yet as a poet
I find it's just the opposite
 
a gentle breeze
a sweet chirp
a blooming flower
a green leaf
an innocent smile
a lively melody
especially
 
a good poem a day
keeps the doctor away


This poem first appeared in Distilled Lives (Vol 4, Illinois State Poetry Society, November 2018).
Used here with the author's permission.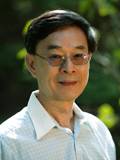 William Marr came to America from Taiwan in 1961. After receiving a master's degree in mechanical engineering and a PhD degree in nuclear engineering, he worked at Argonne National Laboratory in Chicago for 27 years before his early retirement in 1996 to devote his full time and energy to his true passions — poetry and art. A former president of the Illinois State Poetry Society, William has published two books of essays, several books of poetry translations, and 23 volumes of poetry (Autumn Window and Between Heaven and Earth are in English; the rest are in Chinese. Chicago Serenade is a trilingual (Chinese/English/French) anthology of poems published in Paris in 2015.) His poems are included in more than one hundred anthologies, ranging from high school and college literary textbooks to special collections, and have been translated into more than ten languages. In recent years, William has also pursued other artistic interests, including painting and sculpting. He lives with his wife, Jane, in a suburb of Chicago, Illinois. Learn more about William here.
William Marr:
Thank you all for the gracious comments. A good poem a day to keep the doctor away is even more important in these pandemic days.
Posted 12/20/2020 05:31 PM
ladybug:
Susan Moss: Nicely stated poem and so true!
Posted 04/01/2019 10:17 PM
Jo:
Great way to start Poetry Month, Bill. Thanks.
Posted 04/01/2019 06:10 PM
MLove:
Nice! Thanks for a great start!
Posted 04/01/2019 03:47 PM
Jean Colonomos-1:
How fun! And yes, great way to begin the day.
Posted 04/01/2019 12:22 PM
CamilleBalla:
It certainly is life enriching to read a poem a day. Thanks, Bill.
Posted 04/01/2019 10:33 AM
cork:
Jayne, your poem selections are my apples.
Posted 04/01/2019 08:43 AM
KevinArnold:
Fun!
Posted 04/01/2019 08:15 AM
michael escoubas:
Wonderful way to begin the day! Thank you Jayne, thank you William.
Posted 04/01/2019 07:48 AM
Larry Schug:
On some days, yes. On other (most) days a poet needs to embrace the illness.
Posted 04/01/2019 07:46 AM