He planted bean seeds
in his gym shoe, watered
every lunchtime,
his teacher unaware
 
               A seed root wanders
               down in dirt, its white
               arm-roots swirling
 
until she saw green
necks, heads rising,
unfastening
from scarves.
 
               sideways, a skater
               attempting another
               joyous spin.
 
How delicious
to grow a secret,
an A+ answer
vaulting into spring.


© by Carol L. Deering.
Used with the author's permission.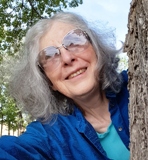 Carol L. Deering grew up in New England, but has also lived in Arizona, Michigan, Germany, and Washington State. For the past 30+ years, she has lived just outside a small town in the least-populated state in the U.S. Says Carol, "We had a railroad, now a bike trail. We have an airline, but no bus line. From our windows we connect with deer, pheasants, a great blue heron, raccoons, cottontails, foxes, coyotes, a porcupine, Sandhill cranes, chukars, owls, geese, horses, and an occasional neighbor's dog. Learn more about her at www.caroldeering.com.
Lori Levy:
Beauty in simplicity.
Posted 04/03/2019 01:57 PM
wordartdjc:
Well, finally today we have Spring! This poem is just right for my happiness. Thank You.
Posted 04/03/2019 09:23 AM
cork:
We have three inches of new snow here in Pinedale this morning..."vaulting into spring."
Posted 04/03/2019 08:55 AM
Larry Schug:
A poem within a poem, both so fine, together even better.
Posted 04/03/2019 07:59 AM