Silver flashes of sunlit birch leaves
A copper penny in the parking lot
The hoot of an owl at midnight
An email from a forgotten friend
 
Snowflakes on my tongue
An ecstatic monarch hovering milkweed
Music that snares, then dances my feet
The snort of a four-year-old's laughter
 
An unexpected thank you
Lakeshore wave foam greeting toes
Golden Book's Mr. Dog in sky clouds
Dust glitter in lamplight
 
Five piglets cuddling
 
Sautéed onions and garlic in red Bolognese
Bamboo sheets
The fountain of a grey whale's exhale
My portrait in a polished tabletop
 
Page warmth from the reading lamp
Salt water taffy-filled teeth topography
Whir-breezes through five-needled white pines
Dark roast Kona grinding
 
Applause from a sea lion


© by Marilyn Zelke Windau.
Used with the author's permission.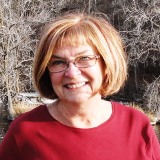 Marilyn Zelke Windau started writing poems at age thirteen, usually sitting in a quiet bathtub with a pillow. A former elementary school art teacher, she enjoys gardening and painting. Author of four books of poetry, the latest being Hiccups Haunt Wilson Avenue (Kelsay Books), she includes her maiden name to honor her father, who was also a writer. Marilyn lives in Wisconsin, where she is an active member of the Wisconsin Fellowship of Poets.
wordartdjc:
This is a true 'fun' poem. I love it. It leaves me now to play with my own words in a similar pattern. Thank you, Marilyn.
Posted 04/05/2019 12:30 PM
Jo:
Thank you, Marilyn. Such wonderful images. Jayne is right. Read, reread and the smiles grow larger.
Posted 04/05/2019 11:21 AM
michael escoubas:
You had me from "Silver flashes of sunlit birch leaves". The late W.S. Merwin typically did not end his lines with full stops--a very nice touch for this poem. Thank you, Marilyn.
Posted 04/04/2019 12:51 PM
Jean Colonomos-1:
Thank you for your smiles.
Posted 04/04/2019 09:41 AM
cork:
I found a copper penny in the post office parking lot recently.
Posted 04/04/2019 08:54 AM
Charly:
Little things that skip right by us; your poem sees the relevant.thanks?
Posted 04/04/2019 08:02 AM
Larry Schug:
Could I suggest that each image be the spark of it's own poem? I especially liked "My portrait in a polished tabletop".
Posted 04/04/2019 06:52 AM
paula:
Lovely images, Marilyn!
Posted 04/04/2019 05:45 AM