It happens every spring
just after the heavy rains,
Let's go shroomin', Daddy chortles.
We're gonna fill these gunny sacks
with morels. We traipse through
the pasture's high grass, leery
of our pawing, snorting bull.
Near the timber's edge the earth
is moist with winter's twisted
leaves and spring's fresh foliage.
Daddy, where are the shrooms?
The two of us, a quartet of hands,
work the site like archeologists,
brushing away dead twigs and leaves,
debris from past lives—suddenly,
there they are, a trio of golden
honeycombed morels, alabaster
stems sprouting proud, saying,
Take us gently, taste of new life.
Yes, new life, Dad with me on hands
and knees each with a gunny sack.


© by Michael Escoubas.
Used with the author's permission.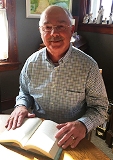 Michael began writing poetry for publication in August of 2013, after retiring from a 48-year-career in the printing industry. He writes poetry because, early in life, his mother encouraged him. Michael also writes poetry because he believes poetry brings people together and that poets are menders of broken things. Michael is the author of two collections, Light Comes Softly and Monet in Poetry and Paint.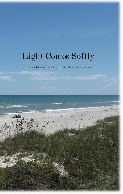 Sharmagne:
Michael has woven a tapestry of words which bring us whistling back to our own childhood. Bravo!
Posted 04/08/2019 07:57 AM
Jo:
what a wonderful portrait of father and sun working together in gathering the morels. Shroomin?[?a new term for me. loved the images, your crafting of just the right word. In reading your poem, I was there watching.
Posted 04/06/2019 06:03 PM
CamilleBalla:
Winters twisted leaves ...like archaeologists ...stems sprouting proud ..and more. Excellent poetry besides the experience of mushroom hunting and close father/ son relationship.
Posted 04/06/2019 12:00 PM
Arlene Gay Levine:
So many levels of meaning here entwined in thoughtful imagery...beautiful work.
Posted 04/06/2019 11:35 AM
cork:
I smell the earth.
Posted 04/06/2019 11:05 AM
Jean Colonomos-1:
I can taste the pleasures.
Posted 04/06/2019 10:20 AM
wordartdjc:
Remembering fine days with our parents is one of the true luxuries of life. Here he explains it so very well. Thank you, Michael.
Posted 04/06/2019 09:00 AM
KevinArnold:
Wonderful poem.
Posted 04/06/2019 08:16 AM
Larry Schug:
This poem paints a wonderful picture, tells a delightful story, not to mention the profound relationship of a father and son. I really like this.
Posted 04/06/2019 08:11 AM