Touching his brother's head
soft wisps of newborn hair,
The five-year-old said

When I was a baby,
my brothers loved me,
just like this.
But now, sometimes,

The love falls off.


This poem first appeared in Musings (Collingwood Writers' Collective, Collingwood Public Library, 2017).
Used here with the author's permission.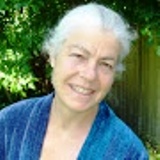 Susan Wismer likes to go for long walks, write poetry, then walk some more. Within her family, which is broadly defined, she says she is famous for eclectic (and occasionally unpalatable) vegetarian cookery and her sense of humor, passed down from her mother. Susan lives on Anishinaabe territory at Georgian Bay, in Ontario.
wordartdjc:
Susan, this poem is absolutely adorable. No other word for it in my lexicon.
Posted 04/07/2019 05:03 PM
Jo:
Beautiful.
Posted 04/07/2019 02:42 PM
Lori Levy:
Beautiful!
Posted 04/07/2019 12:42 PM
barbsteff:
How touching!
Posted 04/07/2019 12:00 PM
njc:
Perfect.
Posted 04/07/2019 11:31 AM
cork:
The last line provokes thought.
Posted 04/07/2019 10:04 AM
SaraS:
Kids have a way of putting things that is priceless, and you capturing it here is a gift!
Posted 04/07/2019 09:30 AM
plgoodman:
Simple, adorable, honest. Thank you!
Posted 04/07/2019 08:31 AM
paula:
Kids: natural poets!
Posted 04/07/2019 06:16 AM