Nobody wants the song to end
before they're done dancing,

so we try to write our own music
thinking the song is a thing of choice.

But life continues to play its own tune,
singing its own words,

while we move to the rhythms,
compelled to love the dance,

though we cannot foresee the end
and only hope we have danced our best.


© by Sara Sarna.
Used with the author's permission.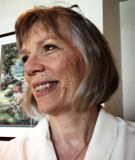 Sara Sarna grew up in a military family and says she was in her early thirties "before feeling I had roots." She has now lived in Wisconsin for a quarter of a century. Sara has pursued various careers in the course of her life, including being a teacher, a bank manager, and a healthcare employee, but her favorite endeavors—"by far," she admits—have been actor and poet. "They are the things that feed my soul."
Puppet Lady:
Thank you! This poem fed my soul today.
Posted 04/09/2019 10:59 AM
NormaB:
This poem speaks to me today as my family tries to sort things out after a death.
Posted 04/08/2019 03:35 PM
Janet Leahy:
And the poets dance, your words are music for us. Thanks Sara
Posted 04/08/2019 02:35 PM
Lori Levy:
Especially like the first 2 lines.
Posted 04/08/2019 02:25 PM
wordartdjc:
Fulfilling Poem Yes, this life that we dance away. What is it all about, 'Alfie'?
Posted 04/08/2019 11:52 AM
Jo:
Love your poem, Sarah.
Posted 04/08/2019 11:26 AM
Sharon Waller Knutson:
What a wonderful extended metaphor. So true.
Posted 04/08/2019 10:28 AM
vscholtz:
Just the inspiration I needed today. Thanks.
Posted 04/08/2019 08:48 AM
cork:
Will the music be a Polka next?
Posted 04/08/2019 08:40 AM
paula:
Love this, Sara!
Posted 04/08/2019 07:07 AM