It's a warm wind, the west wind, full of birds' cries;
I never hear the west wind but tears are in my eyes.
For it comes from the west lands, the old brown hills.
And April's in the west wind, and daffodils.
It's a fine land, the west land, for hearts as tired as mine,
Apple orchards blossom there, and the air's like wine.
There is cool green grass there, where men may lie at rest,
And the thrushes are in song there, fluting from the nest.
"Will ye not come home, brother? ye have been long away,
It's April, and blossom time, and white is the may;
And bright is the sun, brother, and warm is the rain,--
Will ye not come home, brother, home to us again?
"The young corn is green, brother, where the rabbits run.
It's blue sky, and white clouds, and warm rain and sun.
It's song to a man's soul, brother, fire to a man's brain,
To hear the wild bees and see the merry spring again.
"Larks are singing in the west, brother, above the green wheat,
So will ye not come home, brother, and rest your tired feet?
I've a balm for bruised hearts, brother, sleep for aching eyes,"
Says the warm wind, the west wind, full of birds' cries.
It's the white road westwards is the road I must tread
To the green grass, the cool grass, and rest for heart and head,
To the violets, and the warm hearts, and the thrushes' song,
In the fine land, the west land, the land where I belong.


This poem is in the public domain.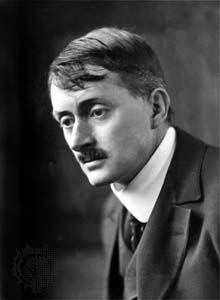 John Masefield (1878-1967) was an English poet, author, and playwright. Both his parents died while he was a child, and at the age of thirteen, annoyed with John's "addiction" to reading, the aunt in charge of caring for him sent him off to train for a life as a sailor. Although his experiences at sea provided much material for the stories and poems he would later write, John soon tired of that harsh life and, on a voyage to New York, he jumped ship. For two years, he worked at odd jobs in that city, using his free time for reading and writing. He eventually returned to England, married, had two children, and established himself as a significant literary talent. As his stature as a writer continued to grow, John became an internationally successful lecturer and was appointed as England's poet laureate, a position he held for nearly forty years. He actively wrote and published until he was 88 years old.
barbsteff:
Skillful use of language! Older style that still reads well today.
Posted 04/10/2019 05:39 PM
wordartdjc:
How delightful. He was my husband's favorite poet.My dearest read the volume of his writings over and over again. He especially loved the sea verses. I had not read this work and so it made very happy.
Posted 04/09/2019 01:15 PM
cork:
Prevailing winds are out of the west, and they are the winds that I like best.
Posted 04/09/2019 08:37 AM