A small lizard, last in his camouflage-
class stands out neon green against
the beige wall of my home. His cousin,
first in his class, hides safely on a twig,
his brown skin blending so well with
the surroundings, except for his bright
red dewlap which he moves in and out
giving away his hiding place.
I watch as their futures play out in front
of me, the ending quite the opposite of my prediction.
A bird swoops down from the tree. The clever
first-in-his-concealment-class cousin is plucked-
up from the twig becoming a tasty afternoon
meal. Mr. bright green, last in his class looks
on and smiles.


© by Arlene Antoinette.
Used with the authorís permission.
†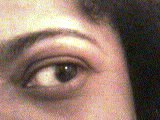 Arlene Antoinette is a West Indian-American who writes poetry, flash fiction, and song lyrics. She enjoys writing about everyday experiences and her work has appeared in a number of journals. Antoinette lives in Florida.
†
†
barbsteff:
Wow!
Posted 04/10/2019 09:36 PM
Lori Levy:
Great images.
Posted 04/10/2019 04:56 PM
vscholtz:
I can see the whole story, especially the red dew-lap. Thanks
Posted 04/10/2019 03:48 PM
Michael:
Wonderful technique in the use of irony! Well done Arlene!
Posted 04/10/2019 12:15 PM
Marilyn Barber:
God's ways of designing His creatures is always an adventure! Marilyn Barber
Posted 04/10/2019 08:00 AM
wordartdjc:
What a delightful nature study in poetry.
Posted 04/10/2019 07:11 AM