A luncheon of honey and walnuts
is all I have time for today, thick tablespoon
of sweet amber on a stoneware dish,
into which I dip the wrinkled nuts.
It's Turkish honey, the label informs,
produced by bees foraging nectar from Rock Rose,
Citrus, Wildflowers & Turkish pines.

O Trader Joe's, thank you—for elevating my mood
with your enticing description. Honeybees of Turkey,
you have my gratitude—for pollinating a place
I yearn to see. O Rock Rose, you Mediterranean beauty,
O treacly pine, bless you for making my humble lunch
so much more than it might have been.


This poem first appeared in Tar River Poetry.
Used here with the author's permission.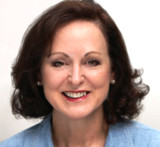 Kathleen Brewin Lewis calls herself "an avowed nature nut" who grew up around the beaches and marshes of coastal Georgia, outside the city of Savannah. An avid hiker, she's walked many glorious trails through the mountains and meadows of North Georgia, North Carolina, and the national parks. Kathleen is the author of two chapbooks, as well as several short stories, essays, and book reviews. Mother of two grown children, Kathleen lives in Atlanta with her husband, Jeff. Learn more about her here.
Lori Levy:
Tempting lunch!
Posted 04/12/2019 12:34 AM
Sherry Beasley:
What a nice poem!
Posted 04/11/2019 10:27 AM
KevinArnold:
Who would think anyone could possibly fit ?O Trader Joe?s, thank you?? into a nature poem? Amazing. And Turkish pines too.
Posted 04/11/2019 10:11 AM
Michael:
I can taste this! I also like your subtle internal rhymes. Well done Kathleen!
Posted 04/11/2019 09:34 AM
wordartdjc:
Lovely descriptive poem. Yes, there are many times when we must be aware of our gratefullness. God gives in so many ways.
Posted 04/11/2019 08:41 AM
plgoodman:
Kathleen you touch the depths of my ridiculously nature-smitten heart. How wonderful are the tiniest things in this troubled world. There the peace lies. Thank you!
Posted 04/11/2019 07:38 AM
Larry Schug:
A poetic reminder that we should be grateful for whatever is on our plate, aware of where it came from and the many hands through which it has passed.
Posted 04/11/2019 07:27 AM