†
As
if
to
have
purpose


the
janitor
creates


with
a
broom
and
a
mop


till
the
floor
is
clean


shines
with
a
smile


like
a
work
of
art


his
masterpiece.


This poem first appeared in Synchronized Chaos (October 2013).
Used here with the authorís permission.
†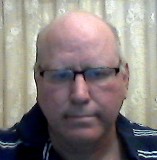 Danny P. Barbare's award-winning work has been published in numerous online and print journals. Author of three books, he attended Greenville Technical College. Danny lives with his wife, family, and sweet dog Miley in Greenville, South Carolina, where he draws inspiration from the Blue Ridge mountains and from the lowlands of Charleston.



Lori Levy:
I agree with the others' comments.
Posted 04/17/2019 02:35 PM
KevinArnold:
Oh yes, great fun and more. A masterpiece.
Posted 04/17/2019 10:18 AM
cork:
I love physical poems.
Posted 04/17/2019 08:47 AM
paradea:
A thoughtful poem...for anyone!!
Posted 04/17/2019 08:37 AM
CamilleBalla:
i have to ditto everyone?s comments. A poem I will remember the next time I am walking in a large space with shiny floors, and I will smile as I appreciate the masterpiece.
Posted 04/17/2019 08:34 AM
wordartdjc:
Great poem, I do love his style. We rarely think of the many 'artists' among us.
Posted 04/17/2019 08:13 AM
Larry Schug:
A poem of being in the moment. A poem of the unique "common" person. A poem illustrating the importance of all work. There is art and poetry everywhere.
Posted 04/17/2019 06:53 AM
bbatcher:
I like the way the single-word lines reflect the side-to-side motion of mopping. May the art we produce through our daily tasks also bring smiles. Brother Lawrence wrote he was pleased when he could take up a straw from the ground for the love of God.
Posted 04/17/2019 06:08 AM
paula:
What a great way of looking at things!
Posted 04/17/2019 05:53 AM