Love of Nature
 
In the middle
of the pinkest bush
a single wine-red rose
reflects the sun
something Van Gogh or Monet
would've thought to paint
especially with a final spurt of color
as a bluebird streaks by.


© by Michael Estabrook.
Used with the author's permission.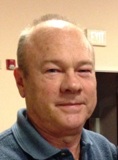 Michael Estabrook, a small press poet since the 1980s, says he is "always striving for greater clarity and concision and for rendering language more succinct, precise, accessible and appealing--a Sisyphean adventure for sure." Now retired after 40 years, Michael is enjoying having more time to write and to work outdoors.
Lori Levy:
Like a painting. Beautiful.
Posted 04/16/2019 04:01 PM
cork:
Short and sweet!
Posted 04/16/2019 09:34 AM
Michael:
I believe you've used all the primary colors, Michael! Love shades of red, yellow and blue. Yes, surely the Masters of brush would have loved these images.
Posted 04/16/2019 09:25 AM
paradea:
Lovely!!
Posted 04/16/2019 08:41 AM
Jancan:
Concise and very lovely! Jancan
Posted 04/16/2019 08:30 AM
wordartdjc:
Beautiful and full of Clairty, Michael. Thank you.
Posted 04/16/2019 08:29 AM
Larry Schug:
Same comment as posted yesterday--It's all about light. You have also painted a beautiful picture with black and white words and spaces that generate color in my mind.
Posted 04/16/2019 07:00 AM