East window,
lightly glazed with snail trails, illuminates
dust, crumbs, a week's debris,
glitters on car keys beside the back door.
Finches argue over the last
of the nyjer seed.
Need I reply to these? 

Water is waiting:
water and the whitest of paper, thick
and soft, as is the brush
of dark hairs and round handle.

Beside these, fresh pots of yellow,
of red, of the bluest of blues
in which might be found the exact russet
of the grosbeak's breast.

Brushes are waiting.
The sun in the East window
gives light for this.  


© by Diane Lee Moomey.
Used here with the author's permission.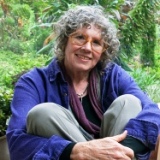 Diane Lee Moomey grew up near the Great Lakes and, since then, has lived and wandered around the U.S. and Canada. These days, she dips her gardener's hands in California dirt, and reads and listens regularly at poetry venues in the San Francisco Bay Area. Diane is the author of multiple books, has published in journals, and has even won a prize or two. Besides poetry, she enjoys long walks beside the ocean, reading mysteries, and painting in watercolors. Learn more about Diane at https://www.pw.org/content/diane_moomey and www.dianeleemoomeyart.com.
Lori Levy:
Beautifully expressed.
Posted 04/15/2019 05:33 PM
joecot:
This makes me want to paint, and I'm not even a painter.
Posted 04/15/2019 12:44 PM
wordartdjc:
Trusly a lovely poem about one womann's fine use of her talent. Yes, I agree, we all have some 'art' in our soul, hidden or displayed.
Posted 04/15/2019 09:17 AM
Larry Schug:
It's all about light, isn't it?
Posted 04/15/2019 06:53 AM