Some keep the Sabbath going to church;
I keep it, staying at home,
With a bobolink for a chorister,
And an orchard for a dome.

Some keep the Sabbath in surplice;
I just wear my wings,
And instead of tolling the bell for church,
Our little Sexton sings.

God preaches, — a noted clergyman, —
And the sermon is never long;
So instead of getting to Heaven at last,
I'm going all along!


From Poems by Emily Dickinson (Little, Brown, and Company, 1890).
This poem is in the public domain.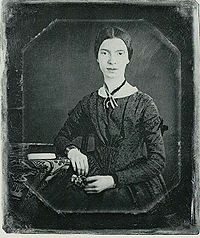 Emily Dickinson (1830 – 1886) is considered a major American poet, though she was not accorded this honor until well after her death, when her younger sister discovered and began to share the enormous body of work that Emily left behind. A recluse who almost always wore white, Emily was born to a prominent Massachusetts family and spent the bulk of her life inside her home in Amherst. Only seven of her poems were published during her lifetime, and virtually none were published as originally written until the mid 1950s. (Emily's odd punctuation, capitalization, and formatting did not meet with standard publishing  "approval" for earlier editions.)  There is a whimsical nature to many of her poems, although the subject of death was the most frequent recurring theme.
wordartdjc:
Truly, Emily had a fine idea of worship. I have her complete works and do go to them quite often.
Posted 04/14/2019 03:55 PM
Jean Colonomos-1:
Yep.
Posted 04/14/2019 10:46 AM
cork:
I am nobody!
Posted 04/14/2019 09:55 AM
paradea:
Love this!!
Posted 04/14/2019 09:44 AM
Michael:
Wonderful post, Jayne. My favorite Dickinson poem, too. There is an excellent movie that readers may appreciate: "A Quiet Passion", that gives considerable insight into the poet's life.
Posted 04/14/2019 08:49 AM
Larry Schug:
Right on, Emmy!
Posted 04/14/2019 08:04 AM