I knew the feeling as well as any boy
hunched over home plate, a flat rock,
legs apart, left in front, bend the knees,
bat back and hands choked up a lot
(the bat was never kid-sized)
hat low squinting against the glare
silent six-word metronome ticking
keep your eye on the ball
keep your eye on the ball.

Bases loaded.
Timmy's hard-ball pitch the same as
when he hurled rocks in our rock fight
wars at Red Rock Quarry still aiming
more for the head than over the plate.

For every concussion he ever
gave my little brother
I swung on the first count,
the crack
electric sting in my palms
the whirl of frayed ball
over the splintered benches
and me sliding to home
a girl
gladly eating dirt.


This poem first appeared in Autumn Sky Daily.
Used here with the author's permission.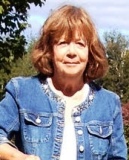 Carol Amato says poetry has allowed her to assume many lives—the earliest being (at age five) ringmaster of the Barnum & Bailey circus and the latest (to date) as a "lifer" (life-long) waitress. In between, she has "experienced" life as a prisoner in a maximum security prison, a Thoreauvian wanderer in the dunes, a woman of ill-repute in Sicily, and many other adventures. Her real life experiences include being a language-learning specialist, a natural science educator, and the author of ten books for children about threatened and endangered animals (The Young Readers Series, published by Barron's Educational Series, Inc., and Backyard Pets, Nature Activities Close to Home, published by John Wiley & Sons). Carol considers herself very fortunate to have both an active imagination and a way to make a living. She lives in Massachusetts.
Jo:
Carol, I love the smack of the bat on that ball?Oh such pleasure it once gave me too. So enjoyed your poem.
Posted 04/19/2019 03:16 PM
paradea:
Sarah, I'm all for revenge served just with a bat!!!! I love this poem!!! I'm sure that dirt tasted good.
Posted 04/19/2019 11:15 AM
nancilee:
What a creative endeavor! I love it.
Posted 04/19/2019 10:46 AM
wordartdjc:
Early years and memories are the best. I have been reminiscing of my youth today as well. Nice poem of a memory, Carol.
Posted 04/19/2019 10:44 AM
cork:
I was up at the plate with her all the time.
Posted 04/19/2019 09:01 AM
Sarah Russell:
Revenge is best served with a bat...and a ball, of course. Just wonderful!
Posted 04/19/2019 08:27 AM
Larry Schug:
She scooores!
Posted 04/19/2019 07:07 AM