Tuolumne River

Waters veiled by moonsilk —
Swelling, swirling,
Surging, sliding —
Luminous waters
Playful as children
And like children
They shimmer
With angels' laughter.


© by Robert Walton.
Used with the author's permission.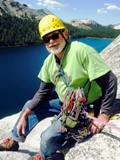 Robert Walton is a retired middle school teacher and a lifelong rock climber with many ascents in the Sierras and Pinnacles National Park. His publishing credits include works of science fiction, fantasy, and poetry. Robert's historical novel, Dawn Drums, won the Tony Hillerman Prize for best fiction in the 2014 New Mexico Book Awards. Most recently, his short story, "Do you feel lucky, Punk?" received a prize in the 2018 Bartleby Snopes Dialogue Only contest. Learn more about Robert at http://chaosgatebook.wordpress.com/.
barbsteff:
Waters veiled by moonsilk ?? Great first line
Posted 04/25/2019 10:28 PM
Lori Levy:
Like the comparison of the water to children.
Posted 04/20/2019 03:31 PM
Janet Leahy:
A really lovely poem, I never thought of angels laughing, but I'm glad they do.
Posted 04/20/2019 02:19 PM
wordartdjc:
Dear Robert, This is a truly lovely poem. I felt as though I was floating along in those waters. Thank You.
Posted 04/20/2019 01:09 PM
Jo:
Beautiful. The words I needed.
Posted 04/20/2019 11:56 AM
Michael:
Robert, you say a lot in just an octave. Really like your use of personification and simile in this piece. Simplicity is power.
Posted 04/20/2019 08:47 AM
Larry Schug:
These words took me away and placed me beside a river.. Thanks.
Posted 04/20/2019 07:11 AM