How do you like to go up in a swing,
   Up in the air so blue?
Oh, I do think it the pleasantest thing
   Ever a child can do!

Up in the air and over the wall,
   Till I can see so wide,
River and trees and cattle and all
   Over the countryside —

Till I look down on the garden green,
   Down on the roof so brown —
Up in the air I go flying again,
   Up in the air and down!


This poem is in the public domain.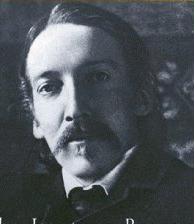 Scottish writer Robert Louis Stevenson (1850-1894) is, for many of us, the first poet to whom we were introduced, through his wonderful book, A Child's Garden of Verses. Though he came from a family of engineers and it was expected he would follow suit, Robert wrote stories even as a child; no one was really surprised when, three years into his engineering studies at the University of Edinburgh, he abandoned them to study writing. Always an avid traveller, despite lifelong poor health, Robert spent much of his life looking for a place to live that offered some respite from his illnesses. A prolific writer of poetry, fiction (Kidnapped, Treasure Island, and The Strange Case of Dr. Jekyll and Mr. Hide are his best known), travelogues, and political essays, he is properly revered today as a major literary figure, although in the early twentieth century, he was temporarily dismissed and disdained as "a children's author." Ultimately, Robert ending up living in Samoa, happy and productive until a stroke abruptly ended his life at the age of 44.
Jennifer B:
One of the best memories of my childhood is of my mother reciting this as she pushed me in my swing.
Posted 04/30/2019 03:02 PM
Jean Colonomos-1:
Jean To swing sky high is to be free.
Posted 04/28/2019 11:07 AM
KevinArnold:
So interesting that RLS ends on something never mentioned (although he?s used the word twice before). But there?s this last-minute admission that which goes up must come down. He?d a lovable rascal, that RLS guy.
Posted 04/28/2019 09:46 AM