Here we go, looby-loo,
here we go, looby-lie.
Here I go pushing you
all the way up to the sky!

Watching you swing
is my favorite thing.
Pure joy,
reckless abandon.
Reaching for heaven,
gliding toward earth.
Swinging days
are special days
dipped in fragrance of grass,
caressed with tip-toe breezes,
languidly French-kissed
by the sun.
Days filled with the music of
your laughter,
my love,
and the indignant repertoire of
the nesting mockingbird
up above.


From A Mother of Sons (Loyola Press, 2004).
Used here with permission.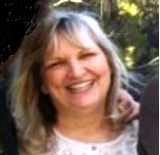 Jayne Jaudon Ferrer is the author of four books of poetry and a nonfiction book about games. She speaks frequently at chuches, schools, and writing-related events and her work has appeared in hundreds of publications. Jayne is the founder and editor of YourDailyPoem.com and enjoys reading, music, old movies, gardening, hiking, and good conversation. A native Floridian, Jayne has lived in Greenville, South Carolina, for 25 years. Learn more about her at www.jaynejaudonferrer.com.
Lori Levy:
So much joy in this poem. And in the birth of another grandchild! Congratulations!
Posted 04/29/2019 10:06 PM
Jancan:
Beautiful poem--love it! It's so exuberant and appealing. Janice
Posted 04/29/2019 11:33 AM
MLove:
Love this! Congratulations!
Posted 04/29/2019 10:51 AM
joecot:
As the title promises, a dance. A touch of joy.
Posted 04/29/2019 10:47 AM
michael escoubas:
As a line in your poem states: Pure joy! An apt description of this poem. A memory-maker for sure!
Posted 04/29/2019 08:59 AM
Marilyn Barber:
So blessed are those who treasure God?s little ones! Never give up that treasure of LOVE. For if you do, your joyful hours may fly away with the wind - teach them Love, and let not not what The Lord has given you EVER be taken away!
Posted 04/29/2019 08:46 AM
Charly:
Simply wonderful!
Posted 04/29/2019 08:45 AM
Nabby Dog:
Sometimes it is especially meaningful to begin a day with an avalanche of love. This poem is such a welcome moment of attention that tells us how beautiful it is to be alive among "the fragrance of grass" and "tip-toe breezes." My entire day just became more precious.
Posted 04/29/2019 08:38 AM
vscholtz:
I want to ride on that swing, too. Thanks. and thanks for all the days of poetry you offer.
Posted 04/29/2019 08:24 AM
KevinArnold:
The mockingbird is a bookend to that elegant first stanza. Fine poem.
Posted 04/29/2019 08:03 AM
nancilee:
Grandchildren are one of life?s greatest pleasures, as your poem attests. I?m in your neck of the woods, Connecticut, the sun is shining, and your poem started my day right.
Posted 04/29/2019 07:45 AM
Larry Schug:
The simple pleasures are the best. the beginning makes me want to sing the entire poem.
Posted 04/29/2019 06:49 AM
paula:
Congratulations on your lovely new grandchild! A lovely poem.
Posted 04/29/2019 05:57 AM