The Old School ways are slowly giving up to
Technology. GPS replaces paper maps. Calendar apps
replace paper calendars. Digital clocks are ubiquitous.
And yet, at year's end I received thirty-four calendars,
sent by charities wanting my money. On a trip
to Hawaii, my daughter and I needed our paper map when
we slipped out of range of GPS. And what else will be lost
when a new generation cannot tell time on a clock face?
What will it mean to say "a quarter till" or "half past"?
Will our hands on the steering wheel still be at ten and two?
When we tell a group to move "clockwise," will they
know what to do? And on the whale-watching boat,
when the cry is "Breaching at two o'clock!"
will anyone know where to look?


© by Juliane McAdam.
Used with the author's permission.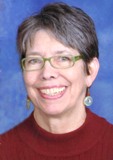 Juliane McAdam spent 25 years as an English teacher, writing poems with her middle school students in Los Angeles. She is now retired and lives near Morro Bay on California's beautiful Central Coast, where she enjoys writing poems for herself.
joesottile:
So true.
Posted 06/04/2019 01:00 PM
mahobbs@mac.com:
Wonderful poem from a very smart and observant woman and friend.
Posted 04/30/2019 02:35 PM
Lori Levy:
Good questions!
Posted 04/30/2019 02:06 PM
barbsteff:
Great observations in this entertaining poem. I believe that one result of digital everything, especially clocks, is that people are trained to be in the moment, but not see the whole (or even know there is one). Some 25 years ago my young grandsons asked, "But grandma, what time is it?" when they'd asked and I'd said, "a quarter to three."
Posted 04/30/2019 12:56 PM
Jo:
The other thing I've noticed is that clerks have a hard time counting out change when the computer fails. And yes, those wellness checks too. Thank you for this most discussable poem. A good one, Juliane.
Posted 04/30/2019 12:50 PM
Janet Leahy:
My doctor asks me to draw a clock showing 10:10, as part of the wellness test, easy to do if you grew up with a clock that had a face and chimed. Great poem Juliane.
Posted 04/30/2019 11:50 AM
paradea:
Good poem!
Posted 04/30/2019 10:28 AM
cork:
What should one do with all of those calendars? Do you have news of Annie Candelaria?
Posted 04/30/2019 08:51 AM
Marilyn Barber:
Yes we can look back with fond memories. Perhaps a few thingschange for the better. But then who is really to say they are better. We must trust in God with all our heart and lean not on our own understanding - only He can and will bring us through. Thanks for your great trip
Posted 04/30/2019 08:25 AM
Roark39:
10 and 2 on steering wheel was before airbags. Now it is 4 and 8 unless you want your arms broken and slammed into your face if the airbag deploys.
Posted 04/30/2019 08:02 AM
Charly:
Change....at time wonderful....at times sad. Lovely poem.
Posted 04/30/2019 07:59 AM
michael escoubas:
I hear you, Juliane! My writing desk continues to resemble the one in today's illustration--how I love such simple things. Thank you for your penetrating insights, past, present and future.
Posted 04/30/2019 07:50 AM
Larry Schug:
Not my maps! Never my maps! Well said, Juliane.
Posted 04/30/2019 06:40 AM
laurenepersons:
Beautiful and so true. I read this poem the whole time shaking my head in agreement. I knew it was time to retire as an English teacher when students started complaining they couldn't read my comments on their essays. I tried taking more time to write more legibly until I realized they couldn't read cursive!
Posted 04/30/2019 06:27 AM