Manzanita leaves
Burst like blossoms
From a thousand slender fingers,
Jade-wreathed fingers
Weaving light into
Life,
They stretch
Toward a new moon
Fleeing west,
Its crescent cup full with stolen treasure
Of Dawn sky.


© by Robert Walton.
Used with the author's permission.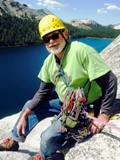 Robert Walton is a retired middle school teacher and a lifelong rock climber with many ascents in the Sierras and Pinnacles National Park. His publishing credits include works of science fiction, fantasy, and poetry. Robert's historical novel, Dawn Drums, won the Tony Hillerman Prize for best fiction in the 2014 New Mexico Book Awards. Most recently, his short story, "Do you feel lucky, Punk?" received a prize in the 2018 Bartleby Snopes Dialogue Only contest. Learn more about Robert at http://chaosgatebook.wordpress.com/.
Jo:
I especially like ? weaving light into life.? Your poem was a gift today. Thank you.
Posted 05/03/2019 08:30 PM
Lori Levy:
Beautiful image of manzanita leaves.
Posted 05/03/2019 07:38 PM
michael escoubas:
Like the way you "place us there" Robert. Excellent wordsmithing! With many thanks from rain-soaked Illinois.
Posted 05/03/2019 11:04 AM
Jean Colonomos-1:
Thank you.
Posted 05/03/2019 10:19 AM
cork:
Lovely.
Posted 05/03/2019 08:54 AM