She's on her way home, but I
stop her by crossing her path.

I crouch to look closer, discover
her secret—the back end of her shell

covered in mud. She has been 
laying eggs. That's all there is

to motherhood in turtles: no
sleepless nights, early mornings;

no doctors, no endless driving.
Incubated by sun, the eggs will develop;

quarter-sized hatchlings will scramble
to the pond—no diaper rash,

no skinned knees. When this female
grows old, she will die alone;

no hospital, no visitors, no I love yous.
Evolution crawls on. My son sent
 
flowers for my new home, granddaughters
flooded me with hugs after my concert.

My daughter invited me to Thanksgiving
dinner. And I too, can swim in the pond.


From Walking with Scissors (Kelsay Books, 2019).
This poem first appeared in Jellyfish Whispers.
Used here with the author's permission.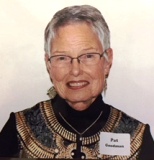 Patricia L. Goodman is a widowed mother, grandmother, and great grandmother. She is a retired horse breeder and teacher and now enjoys singing, gardening, writing, spending time with her family, and she has recently become involved with musical theater. Patricia is the author of two books, Closer to the Ground (Main Street Rag), and Walking with Scissors (Kelsay Books). Patricia lives in Delaware.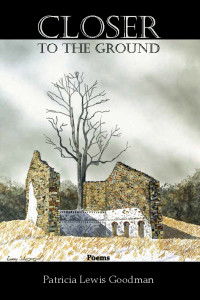 Lori Levy:
Great comparisons!
Posted 05/06/2019 11:42 PM
barbsteff:
Greaat insights! I envy the turtles. Evolution crawls on!
Posted 05/06/2019 05:05 PM
Jo:
One of my favorite poems, Pat. Your love of the natural world shines through.
Posted 05/06/2019 01:11 PM
wordartdjc:
Yes, ditto all the comments below. It seems this poem gives information to the reader as well as giving us serious food for thought!
Posted 05/06/2019 11:41 AM
michael escoubas:
Really like your use of contrast in this poem, Patricia. Your simple, engaging diction makes this poem a triumph.
Posted 05/06/2019 10:33 AM
Larry Schug:
Having watched a few turtles laying eggs, I can relate to and visualize the picture you paint. I like where you carry the story.
Posted 05/06/2019 08:18 AM