I am loitering in memory:
lasertag parties and storybook ballet,
her math facts and chapter books, the first
Magic Treehouse she devoured on her own.
Impatience and relish
when I had to lie beside her
until she fell asleep each night.


I am standing at the dock:
silver water swirling
between us, my girl
aiming toward the widening spaces.
Already, I can barely see
the wave of her hankerchief.†

From A Stone to Carry Home (Salmon Poetry, 2018)
Used here with the authorís permission.
†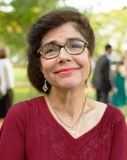 Andrea Potos is a longtime independent bookseller and the author of numerous books. She loves to travel and garners much inspiration that way. Her Greek grandparents and their spirit have been an abiding presence and inspiration throughout Andrea's life and poetry. A resident of Madison, Wisconsin, she writes in longhand, and lives for cafes.
Jo:
Beautiful poem, Andrea
Posted 05/08/2019 05:09 PM
BAMars:
I share some similar memories with my daughter, as well as inspiration from travel. Beautiful poem.
Posted 05/08/2019 03:44 PM
barbsteff:
Such goodness comes from writing in longhand!
Posted 05/08/2019 01:18 PM
Janet Leahy:
Beautiful memories to loiter in! Lovely poem, thanks Andrea.
Posted 05/08/2019 10:11 AM
peninsulapoet:
Potos ia a master of the mother/daughter relationship from both sides of the proposition. <3
Posted 05/08/2019 09:55 AM
KevinArnold:
Haunting in what?s unsaid.
Posted 05/08/2019 09:45 AM
Larry Schug:
Great last lines. they could be a poem of their own.
Posted 05/08/2019 07:34 AM
paula:
A beautiful poem, Andrea!
Posted 05/08/2019 05:48 AM