Looking back I'm with her now
my small hand lost in hers.

We're off on one of our
many walks—it was the walks

we took in early spring
that I remember best—

there was a fragrance
in the air as we picked

our way carefully among
the bluebells and yellow

daffodils. She said, take care,
let's not trample beautiful

things. There were robins
and red birds on the way,

the air was crisp and chilled.
We wore light wraps—her strong

hands were always warm. I loved
our walks but I would have loved

them even without the bluebells
and daffodils, because all that really

mattered was the love I felt
in the confident swish of my

mother's dress and my small
hand safely hidden in hers.


© by Michael Escoubas.
Used with the author's permission.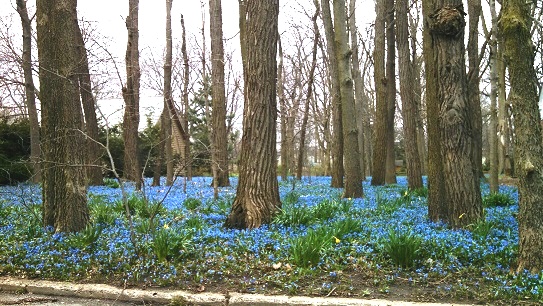 Photo by Patricia Kunkel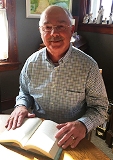 Michael began writing poetry for publication in August of 2013, after retiring from a 48-year-career in the printing industry. He writes poetry because, early in life, his mother encouraged him. Michael also writes poetry because he believes poetry brings people together and that poets are menders of broken things. Michael is the author of two collections, Light Comes Softly and Monet in Poetry and Paint.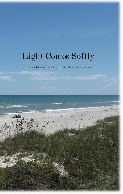 R M A Faith:
Love your poem My Mother's Love, I felt as though I was walking in back of you two, pleasurably observing the moments with you. I also have a mother poem written from my heart after she departed, titled Our Loving Mother.
Posted 07/21/2019 01:36 PM
Wilda Morris:
A beautiful picture of mother-love.
Posted 05/10/2019 08:18 AM
michael escoubas:
Dear Friends, thank you all for your gracious comments.
Posted 05/10/2019 08:04 AM
Lori Levy:
Beautiful tribute to your mother.
Posted 05/09/2019 11:18 PM
tiddles:
I can feel the breeze of your mother's skirt's swish. My mom took us on wildflower walks in the early spring--on trails that once were streetcar routes she had taken to high school from her rural home. We learned new words: bloodroots and marsh marigolds, Jack in the pulpit, May apple. These words linger as sensory images, like your bluebells and daffodils, which she called "birdie's telephones." Thank you for your wonderful poem.
Posted 05/09/2019 10:17 PM
Jo:
Beautiful tribute to your mother, Michael. Thank you for sharing your poem today.
Posted 05/09/2019 09:31 PM
Belinda:
What a wonderfully gentle poem, perfect for Mother's Day.
Posted 05/09/2019 07:55 PM
Glen Sorestad:
Beautifully done, Michael. Lyrically astute -- my ears loved the sounds.
Posted 05/09/2019 11:56 AM
Sharon Waller Knutson:
I Loved this poem. So picturesque and powerful. Perfect for celebrating Mother's Day.
Posted 05/09/2019 11:03 AM
Jancan:
What a beautiful, moving poem! Janice
Posted 05/09/2019 09:54 AM
Jean Colonomos-1:
So lovely to walk with you in this poem.
Posted 05/09/2019 09:35 AM
ladybug:
Susan T. Moss I enjoyed the tribute to your mother. Those are precious memories I can appreciate.
Posted 05/09/2019 09:29 AM
KevinArnold:
Just delightful, a poem that never varies off course.
Posted 05/09/2019 09:13 AM