Wind rocks the little basket
set in a bough of the fuchsia plant
where a tiny ball of down,
chick with needle beak,
sleeps and breathes and grows.

Mother in her neck of emerald
zooms in every half hour
with her cargo: the milk
of blooming shrubs to feed
this young one sprung
from an egg she laid
in this straw cottage.

See her balance in the air
buoyed on thrumming wing,
watch the feeding beak to beak,
the careful passing of lifeís
torch from one to another.

When she flies off, peek
into the nest and see the downy
being dreaming of sweetness,
gathering strength, growing
its perfect limbs to one day

brave the whipping winds,
the citrus scented waves
of spring to add its life
to this cruel and beautiful
world, doing the vital work
of kissing flowers.

*The Portuguese word for hummingbird

© by Tamara Madison.
Used with the authorís permission.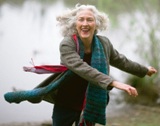 Tamara Madison is the author of the chapbook, The Belly Remembers, and two full-length volumes of poetry, Wild Domestic and Moraine, all published by Pearl Editions. She is a dog lover, a swimmer, and a native Californian who has lived in many different places in the U.S. and abroad. Tamara is thrilled to have recently retired from teaching English and French in a Los Angeles high school, and still more thrilled to have recently become a grandmother.
barbsteff:
Such carefully observed and described details that bring this hummingbird mother and child to life!
Posted 05/12/2019 03:59 PM
Lori Levy:
Beautiful language.
Posted 05/10/2019 07:52 PM
Jo:
A perfect poem to end the day as well. Coming home tired, I turned her and felt immediately lifted by your words and images. A gorgeous poem.
Posted 05/10/2019 06:24 PM
paradea:
Beautiful.
Posted 05/10/2019 09:03 AM
plgoodman:
This makes my heart sing. Your images are lovely and so fitting. Thank you!
Posted 05/10/2019 08:26 AM
Wilda Morris:
A wonderful poem to start the day! The metaphoric language is exquisite.
Posted 05/10/2019 08:18 AM
michael escoubas:
Tamara: exquisite use of poetic devices, particularly sound and assonance, that invade a contentious world with love.
Posted 05/10/2019 08:13 AM
Larry Schug:
The words "see her" and "watch" to me are the most important part of this poem, inviting the reader to share beauty, magic and the tiny manifestation of natural wonder. The ending is so, so good! One of the best YDP poems I've seen.
Posted 05/10/2019 07:13 AM