Mom looks straight at me
through too-big glasses,
hands a blur like birds in flight.
She's Chattanooga Choo-Choo-ing
throughout the house to get me 
off her back, prove she can still move,
if she feels like moving.
 
I grew up watching her dance
across the slick linoleum
of our kitchen floor
to In the Mood and other tunes
from her teens and World War II.
 
I try to catch her dance
on video, but my phone is new
and I don't know much about
the camera. What I am left with
is this awkward still shot,
snapped the moment she orders
put down that cell phone, Junie,
and watch me dance!

From Gravity: New & Selected Poems (Tebot Bach, 2018).
Used here with permission.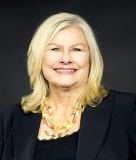 Donna Hilbert writes and teaches private workshops from her home in Long Beach, California. A monthly contributor to the online poetry journal Verse-Virtual, her work is widely published in multiple languages and she is featured in the documentary, "Grief Becomes Me: A Love Story." Donna's most recent collection is Gravity: New & Selected Poems, from Tebot Bach, and she has several poems in The Widow's Handbook (Kent State University Press). Learn more about her at www.donnahilbert.com.
Jeri Thompson:
I really picture a mother trying to prove she is not as old as you or she thinks? Anyway good for her for moving!
Posted 12/14/2019 01:35 AM
Lori Levy:
Great portrayal of the mother in this poem!
Posted 05/11/2019 10:46 PM
barbsteff:
Mom's advice is spot on!
Posted 05/11/2019 02:45 PM
michael escoubas:
I'm not one for clich?s, Donna, but all of this suggests that the "more things change, the more they stay the same!" Thank you for adding a cup of joy to begin my day.
Posted 05/11/2019 07:50 AM