My mother was not afraid
to talk about death.
"When it's my time to go,
let me go,"
she would say years before
it crossed our minds  that
she'd ever be going anywhere.

But others were going all the time.
Her brother the undertaker was always busy.
And the pack of prayer cards
in the drawer of the sideboard
grew thicker over the years.

St. Patrick, St Joseph, St. Anthony,
St. Theresa, and St. Cecelia,
all cozied together with a rubber band,
silently interceded for perpetual light
to shine upon a growing roster of familiar names:
aunts, uncles, grandparents, neighbors, friends
who met their timely or untimely ends
and were sent off with
my mother's prayers at their wakes,

and for their survivors a lemon pound cake
or perhaps a Boston cream three-layered one
with chocolate filling and butter icing
on a plate with her name
- Jane McDonough -
taped to the bottom
so the plate could eventually
make its way back to her
in order to be sent out again.

"When it's my time to go,
let me go," she said, never fearing,
never shying from the inevitable,
so familiar had she become
with this biggest of life's mysteries.

And I cannot think of
people dying in Woodbridge
without thinking of all those cakes
my mother so generously and masterfully
made for the grieving so that,
when Death came to call,
no  one would be left
with a bitter taste in his mouth.


This poem first appeared in Paterson Literary Review (2018, Issue 46).
Used here with permission.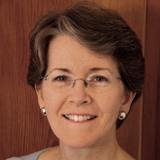 Pat Brisson is a former elementary school teacher, school librarian, and reference librarian in a public library. She has been writing picture books and easy-to-read chapter books for almost thirty years. Pat coordinates Project Storybook, a program at Edna Mahan Correctional Facility for Women in Clinton, New Jersey, which allows incarcerated mothers to select, record and mail books and tapes to their children. She received the N. J. Governor's Volunteer Award in Human Services for this wonderful project. Pat lives in Phillipsburg, New Jersey; learn more about her at www.patbrisson.com.
Lori Levy:
Great poem!
Posted 05/12/2019 12:57 PM
KevinArnold:
Yes. A perfect poem today.
Posted 05/12/2019 10:20 AM
Nabby Dog:
This is a beautiful poem with one of the most telling titles I have ever seen. Kindness at the time of a loved one's passing is especially appreciated by those in grief and Pat's poem celebrates her mother's thoughtfulness and caring, a reflection, I'm sure, of her entire life. This poem is a special gift for us all on this Mother's Day.
Posted 05/12/2019 09:17 AM
cork:
A wonderful treatment of life and death from mother's point of view.
Posted 05/12/2019 09:08 AM
michael escoubas:
Only through poetry can the darkest of subjects end with "no bitter taste in one's mouth." Thank you Pat!
Posted 05/12/2019 08:20 AM
Larry Schug:
I hope someone sends a cake to me while I'm still alive, though I prefer pie! Mother's Day--so bitter sweet. These words evoke many thoughts and feelings. good job.
Posted 05/12/2019 06:59 AM
laurenepersons:
Let them eat cake! What a beautiful tribute. Sounds like your mom had all the ingredients for a good life--generosity, kindness, faith and a pinch of practicality. Happy Mother's Day.
Posted 05/12/2019 05:53 AM