Her morning starts long before mine.
I look out the window for progress.
There it is, without mom, molded
into the vertex of two twigs
partly camouflaged by leaves.
The circumference of a quarter,
the mossy green and grey-white nest
complements the mother's colors.
Suddenly she flies in, hovers
with a feathery remnant and places
it on the nest wall that holds the
aspirin size white egg
barely visible at the bottom.
She fluffs her body over the crib,
mother and nest melt into the green
and ride the wave of wind
between the house and row of ficus.


© by Erle Kelly.
Used with the author's permission.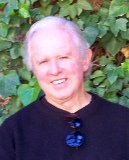 Erle Kelly lives in Long Beach, California and attended California State University Long Beach. He tutors at a local elementary school and attends a weekly poetry workshop. Erle and his wife, Kris, enjoy traveling and exploring the world. They also belong to the city's community garden where they grow their own vegetables.
Jancan:
Excellent use of specific details in this lovely poem! Janice
Posted 05/14/2019 09:14 PM
Jo:
I enjoyed this poem so much and loved the way you described the hummingbird nest, the size of the eggs. I have never seen one but now know what it looks like because of your wonderful poem. Thank you.
Posted 05/13/2019 11:02 PM
barbsteff:
Lucky poet to get such a privy look ito a humingbird nest. Thanks for sharing with the wider world.
Posted 05/13/2019 04:33 PM
BAMars:
You convey the dedication and vulnerability so well. I hope you got to see the hatchling. Nice work!
Posted 05/13/2019 01:36 PM
Wilda Morris:
Well done! I have a robin's next on the light fixture on our front porch. The parents do not like for me to go in and out the front door! They are taking excellent care of the eggs, just like the hummingbird.
Posted 05/13/2019 11:38 AM
Marilyn Barber:
The beauty of this poem attests to the Lord's ways of protection of the mother's unborn young - whether it be little baby birds or little baby people.Let us not dare to interrupt His purpose and intricate processes. Marilyn Barber
Posted 05/13/2019 09:24 AM
KevinArnold:
Another poem that gains power by never varying off course.
Posted 05/13/2019 09:21 AM
paradea:
Beautifully written!! I can see it all through your words.
Posted 05/13/2019 09:05 AM
michael escoubas:
I admire the exquisite detail that pervades this well-crafted poem. Thank you, Erle.
Posted 05/13/2019 08:28 AM
Larry Schug:
A complexity written simply and beautifully with the poet essentially left out of the scene. Beautiful.
Posted 05/13/2019 07:13 AM