late May,
chamois-soft breezes
polish leaves
†
apple blossoms
mop up
winterís dusty clouds
†
Lake Superior
is a just-opened gift,
pristine crystal,
polished silver on lace;
a waxed floor
reaching the horizon.


This poem first appeared in the Wisconsin Poets Calendar and Caught Between Coasts.
Used here with permission.
†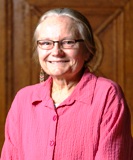 Jan Chronister is the current president of the Wisconsin Fellowship of Poets. Author of two chapbooks, her first full-length collection has just been released by Clover Valley Press. Jan lives in the woods near Maple, Wisconsin with her husband; learn more about her at www.janchronisterpoetry.wordpress.com.
ed werstein:
Great work, Jan.
Posted 05/16/2019 02:37 PM
Janet Leahy:
An economy of words?each creates a visual to savor?the lake, "a waxed floor," so perfect! Thanks for all you do for the Wisconsin Fellowship of Poets.
Posted 05/15/2019 04:29 AM
Lori Levy:
Beautiful images.
Posted 05/14/2019 10:16 PM
Jo:
beautiful images, Jan. Coming from Duluth, Minn. I know Superior well and you have described the lake so well in spring.
Posted 05/14/2019 05:41 PM
Sharon Waller Knutson:
Love this poem. Beautiful imagery and metaphors.
Posted 05/14/2019 03:08 PM
njc:
The last stanza--wow!
Posted 05/14/2019 02:22 PM
barbsteff:
Love the metaphors in first two stanzas, and the visual of Lake Superior.
Posted 05/14/2019 02:09 PM
plgoodman:
Perfect. Only the right metaphors can adequately describe this uplifting beauty!
Posted 05/14/2019 01:33 PM