I'm going out to clean the pasture spring;
I'll only stop to rake the leaves away
(And wait to watch the water clear, I may):
I sha'n't be gone long.—You come too.

I'm going out to fetch the little calf
That's standing by the mother. It's so young,
It totters when she licks it with her tongue.
I sha'n't be gone long.—You come too.


This poem is in the public domain.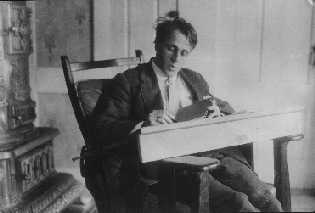 Robert Frost (1874-1963) was born in San Francisco, but moved to Massachusetts with his family after his father's death in 1885 and, ultimately, lived in a number of homes and farms throughout New England. Though he attended several prestigious colleges and universities, he never graduated from any of them. Nonetheless, Robert spent most of his adult life teaching, receiving more than forty honorary degrees, along with four Pulitzer Prizes. Robert's interest in poetry started early; he published his first poem while in high school, sold his first poem at twenty, and by the age of forty, was one of America's best known and best loved poets. Rural life is a consistent theme in Robert's poetry, as is simplistic language that is pleasing to the ear; he felt strongly that poetry was best appreciated when read aloud.
Lori Levy:
Love Robert Frost's poems
Posted 05/16/2019 12:45 AM
bbatcher:
There is a beautiful rendition of the Pasture, as a vocal anthem, composed by Michael Bussewitz-Quarm. You can hear it at J W Pepper: https://www.jwpepper.com/sheet-music/media-player.jsp?&type=audio&productID=10692703
Posted 05/15/2019 11:09 AM
Arlene Gay Levine:
This one is such a keeper, by a poet who has so many keepers. It speaks to the restorative and unifying aspect of the natural world with the kindness and innocence of a child.
Posted 05/15/2019 10:57 AM
KevinArnold:
Some poetry editors might be aghast at parentheses in a poem, especially one that makes a little smiley with a colon, but it doesn?t bother me a bit.
Posted 05/15/2019 09:24 AM
michael escoubas:
This poem is so powerful in its simplicity and gentle invitation to "come too."
Posted 05/15/2019 08:34 AM
Larry Schug:
Thanks Jayne. This poem just took me on a little vacation from all the garbage trying to invade my head. Thanks, Robert Frost, for these timeless words.
Posted 05/15/2019 07:52 AM