Bees zig & zag through clover
collecting nectar for their queen.
A bear sits under a willow tree
on the river bank, watching.
She will track their flight
back to the hive and . . . honey!
for this bear craves sweetness
to go with her trout . . . Yummy!
 
Poor bear. She is watching the bees
but their sentry is watching her.
He does a little jig in the air to say:
Beware, my brothers! Watch out, my sisters!
A bear! A bear! A bear is there
under the willow at the river's edge.
 
The bees follow the winding river to their
hive high in a white pine tree. The bear
follows the bees. The lone sentry
follows the bear who is following the bees
who are taking turns dropping off nectar.
Bear licks her lips. The sentry sees
his chance and does another dance:
Now! Now's the time! Attack!
 
The bees obey. They swarm Bear & sting
her snout. They buzz in her ears & fly at her eyes.
Bear shakes her head, dashes for the river & dives in.
The sentry flies in dizzying circles. Oh happy day,
Bear is stuck in the muck.
The bees hurry back to their work.
 
A bullfrog in the reeds watches
with huge, unblinking eyes.
He flicks his tongue. Harrumph,
No honey here, Bear.
Harrumph . . .

 
From Words & Other Wild Things (Brick Street Poetry, 2016).
Used here with permission.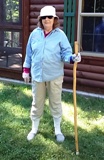 CJ Muchhala lives in Wisconsin, within walking distance of that Great Lake, Michigan, but in spring and fall you'll find her in the north woods, where she has seen a bear with four cubs and listened to the music of bullfrogs on the Wisconsin River. CJ's poetry, fiction, and children's stories have been published in a variety of on-line and print journals, in anthologies and art/poetry exhibits, and have been nominated for regional and national awards (even won a few!).
Janet Leahy:
Perfect poem to read as I add honey to my toast. How important a sentry is to our communities, all of our communities. Thanks CJ.
Posted 05/20/2019 10:51 AM
Wilda Morris:
A fun read to start the morning.
Posted 05/20/2019 09:04 AM
Jo:
Enjoyed your poem. Poor Bear!
Posted 05/19/2019 09:21 PM
barbsteff:
Poor bear!
Posted 05/19/2019 06:00 PM
Sharon Waller Knutson:
Love this poem. It's perfect to read to my grandchildren at bedtime.
Posted 05/19/2019 11:19 AM
TheSilverOne:
Wonderful!! Love the Northwoods as well and long to see a bear...no luck so far. ~ Doris Bezio
Posted 05/19/2019 11:12 AM