A young man came to rent a room,
told me he had no job, no money.
How do you live? I asked.
I barter, he replied. I bet
you'd like a widescreen TV.
I shook my head.
Perhaps a new refrigerator?
I'd like the rent in cash.
A year's supply of frozen meat?
I'm a vegetarian.
He rapped his knuckles on the door,
I'll be back, he said,
and bounded down the front steps,
whistling.

 
From Down to the Quick (Plain View Press, 2006).
Used here with permission.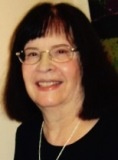 After working for decades as a social worker, Nancy Scott is now an author and an artist. She started writing poetry in the mid-'90s, hoping that her work would eventually be published somewhere; her latest work, Marriage by Fire, is a novella released last January. A chance conversation about a workshop got Nancy interested in collages; her work is now frequently hung in juried shows and, sometimes, her poetry and art are featured together. Learn more about Nancy at www.nancyscott.net.
Lori Levy:
Great ending.
Posted 05/18/2019 03:48 PM
Joeottinger:
Very clever!
Posted 05/18/2019 02:59 PM
joecot:
He should have offered poems...
Posted 05/18/2019 11:41 AM
Sharon Waller Knutson:
Nancy Scott is one of my favorite poets. I loved the fact that she turned a thief and con man into a barterer and whistler. I admire her talent, insight and wisdom.
Posted 05/18/2019 11:19 AM
Larry Schug:
I'll barter a poem for your eyes and ears. OK.
Posted 05/18/2019 06:55 AM