My Gramma Darlington isn't dead
I brought her back to life when
I got her Graham Cracker crust just right
Without the peanuts, with only walnuts
Ground up walnuts, and an extra pinch of salt
Because they only had sweet butter at the store
              Gramma is alive and well in her rich, German cheesecake
               I bake in her very own springform pan.

My mother will never be gone
(She'll be so glad to know!)
Because I have been making all her best
Christmas cookies, year after year
And the taste of each is sweet memories of
Every special family gathering
My mother is immortal in German anise springerlis
The clove spiked Greek kourabiedes, and gingerbread
In the chocolate dipped acorn cookies (my boys' favorites)
Adorned with red and green sugar crystals
And in each almond flavored Christmas wreath spritz.

Just as your Uncle George was reincarnated
When I won the blue ribbon at the county fair
For his amazing semi-sweet chocolate fudge
And a third place ribbon for his peanut butter fudge.

              My mother and grandmother will always be with us…
              With me, through the smells and tastes
              They proudly shared.
                            I can bake them back.


A portion of this poem first appeared in a Penzeys Spices catalog.
The poem is used here with permission.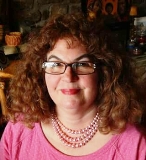 Suzanne D. Cohen is a lifelong writer and retired secondary English teacher. A folk singer/songwriter, she has recorded two albums—I Sing For All the Women (1992) and I Am Your Mother (2017), has written, produced, and appeared in two dramatic musicals— Queen Esther of Persia and Eleanor (about the life of Eleanor Roosevelt), and is the author of a children's book— Our Big, Amazing Tree!!!, illustrated by her father, Walter K. Cohen. Now living in Greenwich, New York, Suzanne stays busy as a beekeeper and ski instructor and has recently become a proud grandmother.
CamilleBalla:
I like this idea of ?baking them back?. I will remember this poem the next time I follow a recipe from my mom.
Posted 05/18/2019 01:23 PM
Lori Levy:
Love the details of what you bake and the idea of baking people back.
Posted 05/17/2019 08:24 PM
Jo:
I feel this way too. Gramma?s cinnamon rolls, mom?s brownies to name just a few.
Posted 05/17/2019 12:23 PM
DavidTookey:
An avid home baker myself, I can vouch for the sentiments expressed here. My mom suffers from severe dementia and her recipes are my connection to her now. Thanks for the great poem. :-)
Posted 05/17/2019 09:09 AM
michael escoubas:
This poem resonates, Suzanne, with memories of my wonderful Mother-in-Law, who was a great baker, too. Thank you.
Posted 05/17/2019 08:33 AM
Larry Schug:
My mother is always here in the Red Wing mixing bowl she left to me. I don't think we're really dead until there is no one left who remembers us. A thought-provoking poem, indeed.
Posted 05/17/2019 07:10 AM
laurenepersons:
So true. Our loved ones leave an indelible mark, especially in their cooking. I can never make a recipe of my mother's or mother-in-law without thinking that it is pretty tasty but not quite as good as the original!
Posted 05/17/2019 06:26 AM