the wood holds memories
of the tree
the tree memories of the sapling
it used to be
the sapling memories
of pod and seed
and the loamy earth
which nurtured it 
 
the wood holds memories
of the sawyer that felled her
the miller that planed her
the carpenter
who drove nails into her
and the painter
who gave her
a coat of glossy shellac 
 
the wood holds memories
of my footsteps
upon each plank
barefoot or shod
in summer or winter
autumn or spring
memories of sunshine
warming its grain
the tickle of moss
the caressing wind
saturating rain
 
the wood holds memories


Š by Sharmagne Leland-St. John.
Used with the author's permission.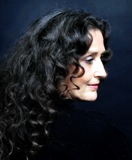 Photo by Peggy Barnett
Sharmagne Leland-St. John is a Native American poet, concert performer, lyricist, artist, and film maker. After graduating from high school, she planned to go to the University of Mexico and become a ballerina/archćologist, but life took a different turn. Retired from a career as a filmmaker and concert performer, she now does pliés while digging in her garden in Tuscany. Sharmagne's poems and short stories have appeared in numerous journals and anthologies and she is the author of four books. She also co-authored a book on film production design, Designing Movies: Portrait of a Hollywood Artist (Greenwood/Praeger 2006), and edited Cradle Songs: An Anthology of Poems on Motherhood (2012), which was a finalist for the National Independent Excellence Award and won the 2013 International Book Award Honouring Excellence in Mainstream and Independent Publishing.
abramwell:
Beautiful, Sharmagne!
Posted 06/07/2019 03:38 PM
GoldenMatrix:
Sharmagne ~ How lovely to see how the sutra of life connects each to each through time, how we each are that one thread and the parts. You have so elegantly captured the weave of our existence. Thanks. :) Ambika
Posted 05/25/2019 01:24 AM
MajaSun:
What a delightful poem, trees give us oxygen when they live and beautiful floors to walk on so they serve and remember us always. Beautifully captured profound insight of a truly wise poet!
Posted 05/24/2019 06:32 PM
Nightladder:
Every line touched me, the way tree rings touch one another between the spaces. This is so beautiful Sharmagne. I have a tree poem here too called Gunther's Tree. Merci pour les arbres! Lois
Posted 05/24/2019 06:06 PM
fragrancegirl1:
Sharmagne, You are fabulous and incredibly talented. ❤❤
Posted 05/24/2019 06:55 AM
Jo:
Beautiful, Sharmagne. We are all interdependent and this shows the relationships so well. Happy Birthday!
Posted 05/23/2019 09:53 PM
Lori Levy:
Beautiful
Posted 05/23/2019 03:16 PM
Wilda Morris:
Beautiful! The poem flows perfectly to its concusion.
Posted 05/23/2019 02:46 PM
SAlya:
To feel the ambience of a beloved and simply integral pastime: being outdoors. Glorious! What a gift on your birthday?of you and your poem.
Posted 05/23/2019 12:17 PM
Fred Bassett:
What a lovely poem of our dependence on the ecosystem. The implication that we need to keep the system sustainable is obvious. Just lovely!
Posted 05/23/2019 11:09 AM
KevinArnold:
Sharmagne?s strong voice comes through vividly.
Posted 05/23/2019 09:10 AM
ritamilo:
Beautifully haunting & wonderful!
Posted 05/23/2019 09:09 AM
jeeger:
Beautiful!
Posted 05/23/2019 08:55 AM
michael escoubas:
Happy Birthday Sharmagne and congratulations on the publication of this superb poem personifying those "common" things that surround us, elevating our lives beyond the mere commonplace. Love the embedded rhyme-scheme, barely noticeable in its subtlety.
Posted 05/23/2019 08:05 AM
Jumpingbeans:
In her authentic style, Sharmagne's poetry takes the reader on a journey which is both reflective and enjoyable. This wonderful poem is no exception. ~Karen Schwartz~
Posted 05/23/2019 07:03 AM
Larry Schug:
This poem illustrates a depth of insight into the world around us. We can trace ourselves the same way.
Posted 05/23/2019 06:42 AM