For Nate


Dear "Little Bother"
of your brother

who is older, sharper
with words
and who already

sees you for who you are,
Small Avenger of Injustice,

you shame the class bully
whose words sliced into a friend.
The whole class applauded

you, as do I. Small
Slugger, you smack a baseball

like the Babe and run with three quick
steps toward first, then lumber along
like a Conestoga wagon over ruts

while we all yell, Run! Run!
You get there in your own time

as I expect you always will.
I am not worried--already you know
there is no place like home.


© by Paula Schulz.
Used with the author's permission.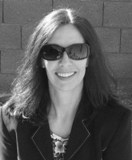 Paula Schulz has taught students in kindergarten, college, and a few grades in between. She is involved with the Poetry People in Waukesha and lives with her husband, Greg, in Slinger, Wisconsin.
Lori Levy:
Love how the poem leads up to "You get there in your own time/as I expect you always will."
Posted 05/24/2019 03:34 PM
Larry Schug:
This poem gets better and better with each reading. So much between the (base)lines.
Posted 05/24/2019 08:03 AM
vscholtz:
Wonderful images and clever word play. So glad you are writing poems.
Posted 05/24/2019 07:24 AM