I picked up the fallen chick
like a fragile figurine, glass-
blown & pink as flesh,
toted its small breast,
downy head, broken wing

into the house where my mother
in her apron, spoon in hand,
turned from the pot of broth
boiling on the stove
to see this helpless thing

& me, carrying it,
cradling it in the hollow
of my palm like a precious word
or the prayer I spoke one summer,
asking the giver of my life to save this one.

From Full Worm Moon (Cascade Books, 2018).
This poem first appeared in Rock & Sling.
Used here with the authorís permission.
†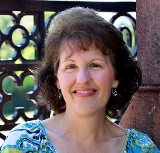 Julie L. Moore believes that writing poetry is as vital as seeking justice, embracing beauty, and emulating goodness. Author of four poetry collections, Julie's work has appeared in many literary publications and anthologies; her most recent book is Full Worm Moon, published in The Poiema Poetry Series by Cascade Books in 2018. Julie lives in Indiana, where she is an Associate Professor English and the Writing Center director at Taylor University. Learn more about her at www.julielmoore.com.
Lori Levy:
Beautiful poem.
Posted 06/04/2019 09:31 PM
BAMars:
I agree with Kevin Arnold - the ambiguity is great,and I felt so much empathy for you and the baby bird.
Posted 06/04/2019 11:15 AM
Jancan:
So moving--nostalgia at its best.
Posted 06/04/2019 10:02 AM
michael escoubas:
Touching, reminds me of nursing my pet lamb "Sammy" back from death to life--helping the helpless is always in vogue (or should be!) Thank you, Julie.
Posted 06/04/2019 09:46 AM
KevinArnold:
This poem, for me, is most interesting in its seeming straightforwardness but ultimate ambiguity. What about that summer past, and is the giver of life God or the aproned mother?
Posted 06/04/2019 09:21 AM