How good it feels to watch that gardener work!
He looks so happy plowing up the sod.
And bending over holes between his feet
while dirtying his fingers in the sun.
How wonderful a life of handy labor!
How grand it seems from windows in my house.
One day I, too, will plant a flat of starters—
learn satisfaction from a job well done.


© by Amy Baskin.
Used with the author's permission.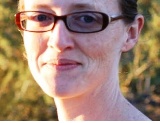 Amy Baskin lives with her husband and two children in Portland, Oregon. When she's not writing, she matches up international students at Lewis & Clark College with local residents to help them feel welcome and at home during their time in Oregon. Amy enjoys camping with her family and seeking out the beauty in life. Learn more about her at Instagram: @AmyBaskinWrites or Facebook: @AmyBaskinWrites.
Lori Levy:
Like the portrayal of the gardener and that he's seen "from windows in my house."
Posted 06/07/2019 03:51 PM
Larry Schug:
A really interesting poem. Such depth so simply stated in so few words.
Posted 06/07/2019 07:49 AM
KevinArnold:
Ah yes, longing and desire from a different angle.
Posted 06/07/2019 04:58 AM
Contents of this web site and all original text and images therein are copyright © by Your Daily Poem. All rights reserved.
As an Amazon Associate I earn from qualifying purchases. Purchasing books through any poet's Amazon links helps to support Your Daily Poem.
The material on this site may not be copied, reproduced, downloaded, distributed, transmitted, stored, altered, adapted,
or otherwise used in any way without the express written permission of the owner.