some say itís the water here
we drink, or the last gold-rush
flakes glinting, in the air, or
because we are the human remains
our continentís emptied hereóno farther
at the oceanís edge
run out of land;

some say itís the godsí favor, the Pacific Ocean,
its windy assiduous whisk broom; some say
it's July, August fog dampening
dampening, flattening us to our knees,
only in praise to rise up
for the light!

óbut where are our words?
where is a painter of this moment
in the western sundown that turns our backyards,
our house walls
gold; whereís a paint tube labeled Ďinfinity,í
gold the roofs, gold
the Monterey pines, the Muni bus, gold
the bedroom windows burning? where
hosannas for sinners and saints equal
in this evening, where a dance, a song
in memoriam?


© by†Grace Hughes Chappell.
Used with the authorís permission.
†
†
†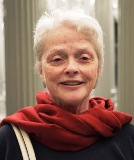 Grace Hughes Chappell has lived nearly all of her adult life in northern California. After raising their children in San Francisco, she and her husband decided they needed to continue having a grand challenge in their lives so they moved to acreage in Mendocino County along a feeder stream of the Eel River and, for some twenty-four years, have cultivated a garden and an apple orchard there. Grace's work has been widely published and her chapbook, ten mile creek almanac, has just been released from Finishing Line Press. When she remembers to, Grace posts entries at gracehugheschappell.blogspot.com.
Jancan:
So beautiful--describing images worthy of painting!
Posted 06/10/2019 12:13 PM
plgoodman:
Beautiful imagery. Wonderful metaphors. Thank you Grace!
Posted 06/09/2019 06:03 PM
Lori Levy:
Love all the gold, like a painting.
Posted 06/09/2019 01:50 AM